Review
Famu koju je Džerom Dejvid Selindžer držao aktivnom gotovo sve do smrti, povlačenjem iz javnosti i odbijanjem da mu novinari lešinare nad životom i stvaralaštvom, Deni Strong u ovom biopiku nije uspeo da prenese na gledaoce. Film prati Selindžera (Nikolas Hoult) najpre u mladim godinama, dok ga slava nije opila nakon uspeha prvih priča objavljenih u Njujorkeru i fascinantnog uspeha njegovog debitantskog romana "Lovac u raži", koji je redovna lektira svake mladalačke inicijacije i prvog, racionalnog otpora poretku stvari u životu. Prati njegove odnose sa izdavačima, devojkama i ženama, kao i ratno iskustvo koje će znatno uticati na filozofiju njegovog daljeg života, a užasi doživljenog opterećivaće mu psihu i emocije i odražavati se na stvaralaštvo. Iako je imao suprugu i dvoje dece, bio je zatočenik pisane reči, otuđen u svom bunkeru, nije priznavao ni "rod ni pomoz' bog", a zbog toga su trpeli oni koji su ga najviše voleli. Veličina njegovog genija bila je noćna mora za svaki oblik normalnog bračnog/porodičnog funkcionisanja.

Film je korektan i delimično zanimljiv prikaz bitnih faza u Selindžerovom životu, uz vidan loš izbor glavnog glumca, koji previše moderno i nekako tinejdžerski izgleda i pre bi odgovarao karakteru Holdena Kolfilda u nekoj (ne)mogućoj filmskoj verziji "Lovca u raži" na koju je Selindžer dao striktni embargo, iako su ga svojevremeno saletali i Bili Vajlder i Elija Kazan i Džeri Luis.
Holivud je zaređao sa biografskim filmovima o bitnim piscima 20. veka i to će obradovati ljubitelje književnosti. Najviše je postigao Džej Rouč sa TRUMBOM, a solidan utisak ostavio je i film GENIUS Majkla Grendejdža gde su u fokusu Tomas Vulf i izdavački genije Maksvel Perkins iz kuće Charles Scribner's Sons, a sporadično se pojavljuju Ernest Hemingvej i Frensis Skot Ficdžerald. Stvalačku grozničavost i nezajažljivu potrebu za putovanjima i upijanjem života uz specifični bitnički štimung, videli smo u ekranizaciji kultnog romana Džeka Keruaka ON THE ROAD, koju potpisuje Valter Saleš.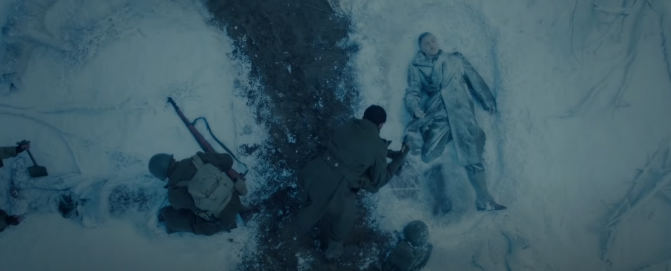 Međutim, lukavo sam, paralelno sa ovim igranim filmom o autoru "Lovca u raži", gledao raspamećujući dokumentarac SALINGER (2013) Šejna Salerna, u kome se uživa kao u vrhunskom trileru. Uzbudljiv, provokativan, raskrinkavajući, podsticajan, otkrivalački, Salernov film je, naravno uz druga rediteljska sredstva i formu, sve ono što Strongov film nije. Igrana verzija o kontroverznom piscu i mitu koji je stvorio svojim dobrovoljnim izopštavanjem je prilično mlaka i ravnodušna, dok je dokumentarac sila koja razbija. Čak vas BUNTOVNIK U RAŽI neće podstaći ni da se vraćate Selindžeru i porodici Glas, dok vas Salernov film gura da pretresete svoju i gradsku biblioteku i iznova progutate sve od ovog pisca i da kopate po internetu u želji da saznate šta su brojni biografi sve pisali o njemu.