Review
"Nostalgija… Šta je tu loše. Nostalgija je jedino preostalo osećanje za one koji ne veruju u budućnost."
      Ovaj citat iz jednog od najboljih filmova poslednjih godina, La Grande Bellezza, italijanskog reditelja Paola Sorentina,  možda  najpribližnije sublimira ono što ovaj halucinantni, gorko-smešni, nadrealni, a iznad svega mudri i emotivni film poručuje. Ovaj 44-vorogodišnji reditelj koji je, posle kratkotrajnog američkog izleta sa This Must Be The Place, u kojem je pre dve godine ponovo blistao Šon Pen, u karijeri je već snimio neke zapažene filmove, između ostalih film Div, o neuništivom italijanskom političaru Đuliju Andreotiju, kojeg je, kao i ovde, igrao omiljeni rediteljev glumac Toni Servilo. Mada će kritičari ponovo pokušavati da mu oduzmu originalnost i da ga porede sa Felinijevim La Dolce Vita, a prosto se to poređenje samo nameće (Mastrojani kod Felinija, Servilo kod Sorentina), jer se u oba glavni lik kreće kroz dekadentni i izveštačeni, lažni svet visoke buržoazije, Sorentinova "Velika lepota" više je stilizovani filmski esej o životu bogatog snoba, koji prezrivo gleda na isprazni snobizam svojeg okruženja i čezne, usred mnoštva lažnih oseta, za onim pravim i autentičnim. On, osim briljantne kamere Luke Bigacija, donosi preispitivanje hedonističkog načina života, dominirajuće matrice kojoj stremi savremeno potrošačko društvo. Bogatstvo je plus, govori logika i kroz slike visokog društva nagoveštava autor, ali sobom nosi poroke, dosadu i strašnu ispraznost, koja se, na kraju, završava traganjem za čistotom, pravom emocijom, ljudskošću, lepotom. A ko od nas, manje ili više poročnih ne traga za onim čistim, savršenim osećajem iz mladosti, prvom ljubavi, nepatvorenim osećanjem istinske zaljubljenosti, ko od nas ne traga za sopstvenim uvodom u svet odraslih, kojem često manjkaju adolescentske ili klinačke želje, snovi i fantazije.
[youtube]http://www.youtube.com/watch?v=fJfvX6zPAuQ[/youtube]
      Šezdesetpetogodišnji plejboj, kralj visokog društva, Djep Gambardela, šarmantni hroničar Rima, kulturnog života večnog grada, stalni je gost zabava, koje, implicitno, ukazuju na dekadenciju u  kulturnim krugova rimske prestonice. Djep je noćna ptica koja za život zarađuje kao novinar, prinuđen da stalno objašnjava neostvarenim ili ostvarenim umetnicima zašto je prestao da piše posle jednog i jedinog objavljenog romana. Njegova odmerenost, stil i šarm su ono što ga čini neponovljivim svih ovih 40 godina, što privlači žene a kod muškaraca izaziva poštovanje. Posle smrti žene koje je u mladosti voleo, Djep počinje da se preispituje.
       Predivni kadrovi Rima, dočarani snolikom kamerom, raskošna su scenografija za kontemplaciju glavnog junaka o životu i smrti. On je video previše i zna gotovo sve o zadovoljstvima duha i tela. Jedino ne zna u šta se pretvorilo njegovo traganje za idealima iz mladosti. Kad ga na samom kraju, svetica koja u svojoj 104. godini, dolazi u Rim, posle četrdesetogodišnjeg misionarskog rada i lečenja bolesnih (svojevrsna aluzija na Majku Terezu), prosvetli sa nekoliko čudnih, mudrih rečenica, Djep odlučuje da se vrati pisanju, nakon protraćenih godina traganja za "Velikom Lepotom". U međuvremenu, svedoci smo satiričnog osvrta na religiju i njene predstavnike, odrođene od vrline skromnosti i zaveta ljudskosti. Paradiraju pred nama, vođeni zavodljivom kamerom, bizarni likovi iz sveta umetnosti, uvek na tankoj ivici samoparodije. Plemstvo se ukazuje kao skorojevićki soj koji vapi za novcem; plastični hiruzi pomažu ocvalim damama da žive svoje snove o večitoj mladosti. Rimsko cartvo na platnu sada umire od prenaglašenosti i samodovoljnosti, kao i svet u celini, dehumanizovan i lišen magije života.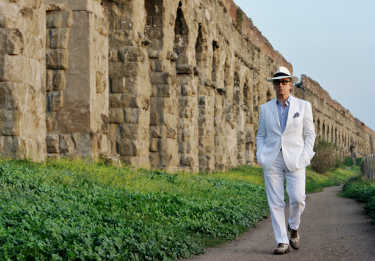 Film Paola Sorentina, između ostalog, omaž je velikim italijanskim sineastima. U njegovim slikama prepoznaju se i Bertolučijevi, Felinijevi, Antonionijevi uticaji. Na istom poslu, slavljenja lepote filmske umetnosti, radili su zdušno svih ovih godina i Tornatore i Moreti, doduše, njihovo bavljenje dušom koristilo je različita izražajna sredstva. Mlađi italijanski reditelj dostojno nastavlja da neguje tradiciju i podseća na podneblje koje je iznedrilo velike renesansne genije. Istovremeno, delujući kritički, raskošnim filmskim jezikom dočaravajući sve pojavne oblike savremenog načina života u visokim krugovima buržoazije, majstor režije Sorentino i njegov glavni lik, ostareli plejboj, sugerišu nam principe kojima bi naše društvo trebalo da vrati, vrednostima kao što su humanost, iskrenost, jednostavnost.
       I naravno, pre svega, veličaju ljubav, najjaču pokretačku snagu sveta.