Review
L
ondon. Pocetak je Drugog svetskog rata i talentovana pevacica Vera Filips (Kira Najtli) zaradjuje za zivot pevajuci po podzemnim sklonistima. Iznenada se pojavljuje njena prva ljubav iz tinejdzerskih dana, pesnik, alkoholicar, Dilan Tomas (Metju Ris) koji trenutno radi na pisanju scenarija za filmove ratne propagande. U medjuvremenu dolazi do romanse izmedju Vere i mladog vojnika Vilijama Kilika (Kilijan Marfi). Tenzija se dodatno povecava dolaskom Ketlin Tomas (Sijena Miler), Dilanove privlacne i ujedno porocne supruge…
[youtube]http://www.youtube.com/watch?v=R2XN5elRKcI[/youtube]
Na samom pocetku se mora odmah reci da je senzibilitet ovog filma prvenstveno upucen citalacki potkovanijim zenskim gledaocima, ali ono sto ga smesta u siri okvir jeste njegova lirska stilizacija na vizuelnom nivou. U tom smislu, ali samo uslovno, moze se uporediti sa filmom "ATONEMENT" gde je poetska suptilnost naracije i slike dovedena, gotovo, do savrsenstva. "THE EDGE OF LOVE" nema tu sinergiju, tim pre sto je njegov potencijalno slozen ljubavni cetvorougao razblazen melodramskim razresenjem koje pojedine gledaoce moze ostaviti nezadovoljnim s obzirom na ambicioznost kojom film pocinje.
S druge strane, koriscenje noar arsenala (dim i cigarete, sivi tonovi u pojedinim scenama, retro kadrovi ljubavnika tipicni za 40-te i 50-te godine proslog veka) i konzistentna gluma svih aktera u prilicnoj meri nadoknadjuju pomalo poljuljana ocekivanja gledalaca.
I upravo u tom glumackom delu, Kira Najtli, kod koje je prosla ljubav izmedju nje i Dilana jos uvek jaka, i Sijena Miler, koja je svesna da ponovni susret bivsih ljubavnika moze znaciti gubitak muskarca koga neizmerno voli, grade svojom maksimalno predanom glumom slozen ambivalentan odnos i kao suparnice i, silom prilika, kao prijateljice. Ovo bi ujedno, i pored nesto slabije finalizacije na kraju, mogao da bude jedan od problem kojim se film bavi i sa kojim se svako od nas suocio u svom zivotu. Naime, da li je moguce da bivsi ljubavnici ostanu u istinski prijateljskim odnosima? Verovatno ce, posle svega recenog, ovo pitanje izgledati kao krajnja banalizacija i uproscavanje ovog, ipak, slozenijeg filma.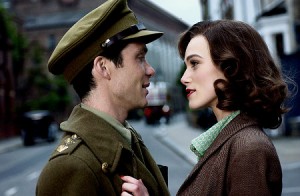 Dopusticu sebi malu digresiju i slobodu da iznesem jedno zapazanje koje nije, a mozda i jeste, u vezi sa filmom. Kada je rec o danasnjim musko-zenskim odnosima, cini mi se da se primecuje dramatican porast "prijateljstava" izmedju bivsih partnera koji su potpuno ubedili sebe da mogu da nastave sa vidjanjima. Ako ne zele da se direktno suoce sa celom situacijom onda je "THE EDGE OF LOVE" prava preporuka za njih i jos jedan primer kako umetnost, na indirektan nacin, suocavanje sa zivotom cini laksim. Ako i posle gledanja filma doticni i dalje veruju u takvo prijateljstvo, neka bar znaju da su se opredelili za hod po nicijoj zemlji jer jedino uzviseno sto ostaje posle svega jeste vecita i ostra granica ljubavi.