Review
Posle svake velike društvene krize američki film kreće sa štancovanjem raznih priča čiji je jedan od glavnih  ciljeva sabornost američkih građana i neka vrsta kolektivne katarze. Naravno, i po koji dolarčić na biskopskoj blagajni.
U svom drugom filmu,  "KILLING THEM SOFTLY", Endrju Dominik posle odličnog psihološki slojevitog vesterna "The Assassination of Jesse James by the Coward Robert Ford" po drugi put sarađaju sa Bred Pitom koji se pojavljuje u ulozi plaćenog ubice Džekija. Naime, Džeki je pozvan od gangsterske vrhuške da reši pljačku kockarnice koja je već po drugi put bila meta lopova.
Kakve sad sve ovo ima veze sa amerikom u postkriznom periodu? U tome i leži i ključni problem ovog filma koji je pokušao da jednom krimi pričom iznese svoj stav o uzrocima i posledicama poslednje svetske krize koju je upravo generisala Amerika. I kao što uvek biva sa ovakvim temama, najčešći način da se filmski sagleda stanje stvari je da se celokupna radnja priče i likovi smeste u jedan mikrosvet koji naizgled nema direktnih veza sa makroproblemima. Međutim, "KILLING THEM SOFTLY" još od prvih sekundi trajanja toliko bombarduje gledaoca svojom političkom poentom da se gubi svako dalje interesovanje za praćenje priče. Veoma česti govori Baraka Obame i bivšeg predsednika Džordža Buša iz pozadine deluju kao naratori koji usmeravaju priču i utoliko više čine film ispraznijim. Kao da se reditelj Endrju Dominik od samog početka plašio kako "neprosvećeni" gledaoci neće shvatiti društvenu poruku filma (verovatno se to odnosi samo na publiku sa anglosaksonskog područja).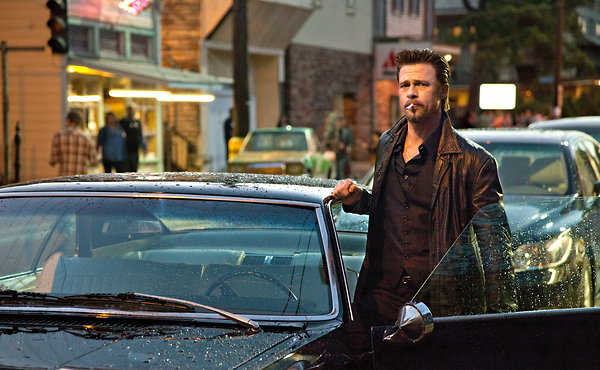 Prilično mlitav scenario, uključujući i ne baš srećnu raspodelu epizodnih uloga (australijanac Ben Mendelson u ulozi stalno znojavog narkomana Rasela deluje krajnje otrcano i dosadno), čine se kao prilično zakasnela reakcija na famoznu krizu gde su stvari svakom prosečnom stanovniku planete jasne. Prilično su nevešto uklopljeni i dijalozi između aktera koji su tek loša kopija jednog Tarantina ili, recimo, Gaj Ričija. Apsolutno odsustvo ciničnog humora u njima više liči na nepodnošljive nebuloze o hedonističkim doživljajima sa prostitutkama i alkoholom.
Izuzetno brutalna scena prebijanja Markija (Rej Ljota) u cilju iznuđivanja istine bi više imala smisla u nekoj drugoj priči, a ovako deluje kao još jedna zakrpa na pogrešnom odelu. Isto tako, scena saobraćajne nesreće usled ubistva Markija snimljena u "slow motion" tehnici je još jedan neuspeli pokušaj da se smisleno kontrastira njegovom prethodnom premlaćivanju. Jednom rečju, "KILLING THEM SOFTLY" je u duboko obrnuto proporcionalnom odnosu između ozbiljnih ambicija sa kojima je izašao pred auditorijum i same realizacije na filmskom platnu. S druge strane, film i odiše nekom ravnodušnošću i rezignacijom prema svemu što se događa, ali u ovom slučaju ni to nije bio dovoljan argument za priču koja je već na samom početku izbila sebi glavne adute.
[youtube]https://www.youtube.com/watch?v=VCCBo0yh6YM[/youtube]
Poslednjih 10 minuta su ujedno i najsmisleniji deo filma, a čini si da je toliko i trebalo da traje. U tih 10 minuta je i sadržana celokupna poenta do koje je trebalo privesti celu priču zadovoljavajućem kraju, ali uz daleko drugačiju dramaturgiju i rediteljsku umešnost. Naime, posle monologa Bred Pita o istorijski propaloj ideji Tomasa Džefersona o jednakosti svakog američkog građanina pred svakim, scena se završava jedinom britkom rečenicom u filmu: "Amerika nije država. Samo biznis. A sad mi jebeni plati". Ni manje, ni više!
Sve u svemu, može se očekivati da će "KILLING THEM SOFTLY" zbog svoje teme naići na odobravanje, pre svega, kod onog kruga američkih kritičara kojima je izuzetno slab filmski učinak mnogo manje bitan nego sama tema. Ipak su to samo američka posla. Zar ne?