Review
Mada mu je karijera uglavnom obilovala komercijalnim ostvarenjima, sa osloncem u izvanrednim zanatskim temeljima, Džoel Šumaher (1939-2020) umeo je ponekad da zaintrigira vrlo angažovanim delima kojima nije cilj jedino da zabave. Film PAD najveći je i najsjajniji biser u njegovom opusu, a premijerno je prikazan pre 30 godina.
Središte zbivanja u ovoj fascinantnoj socijalno-psihološkoj studiji gotovo nepodnošljivog života u metropoli jeste urbani pakao Los Anđelesa, koji vrvi od saobraćajnih gužvi, nasilja, kriminala i svake druge vrste neljudskoti. U takvom okruženju zatičemo glavnog junaka Vilijama Fostera, zvanog Di-Fens (Majkl Daglas u dijaboličnom izdanju; obratiti pažnju na simboliku nadimka njegovog lika), kome će u jednom trenutku prekipeti. On više nije spreman da trpi da ga potkradaju u prodavnicama, da se neljubazno odnose u restoranima s lošom hranom, da ga maltretiraju bande raznih obojenih i belih nasilnika i narkomana, da se bogati igrači golfa razmeću po ogromnim zelenim površinama. Uz sve to Di-Fens je kivan i na američku politiku, jer je posle niza godina rada u Službi odbrane, zbog prestanka Hladnog rata, ostao bez posla. Besan je i na svoju bivšu ženu jer mu ne dozovoljava da viđa njihovu ćerkicu, čak ni da joj uruči rođendanski poklon. Odlučan da sve to prekine, on izlazi iz svog automobila, zaustavljenog u strašnom saobračajnom haosu, i kreće u svoj osvetnički pir vrelim ulicama Los Anđelesa…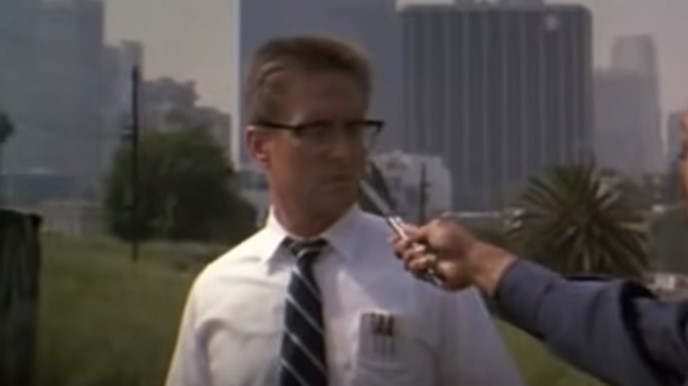 Mada je većina gledalaca spremna da stane na stranu glavnog junaka posle otkrivanaj nekih činjenica koje ga zapravo predstavljaju kao bolesnog čoveka, reditelj Džoel Šumaher je u svojim izjavama uporno tvrdio da je Di-Fens negativac i pored toga što se bori protiv nepravde i devijacija u američkom društvu savremenog doba.
"Snimajući ovaj film želeo sam da skrenem pažnju na sve što se oko nas dešava, da izazovem reakcije, kakve god one bile", rekao je Šumaher jednom prilikom, misleći na Ameriku u kojoj iz dana u dan jačaju bes i nasilje. "Na vestima su sve češće priče o mirnim i povučenim porodičnim ljudima koji uzmu pušku u svoje ruke i krenu da prave red po ulicama. U poslednje vreme pojačali su se i međusobni konflikti između američkih etničkih manjina: Korejaca, Latinoamerikanaca, Afrokaribijaca. Veliki neredi u Los Anđelesu pre nešto više od godinu dana izbili su zbog odgovora crnaca na rasizam belaca, a završili su se maltretiranjem i pljačkanjem korejskih prodavnica kojih je L.A. pun", rekao je svojevremeno reditelj.
Sve u svemu, PAD je jedna bolno istinita priča o savremenoj Americi, koju je Šumaher doneo rediteljski briljantno, uz vrlo ubedljivu igru glumaca. U nizu sjajnih i provokativnih uloga iz druge polovine 80-ih i početkom 90-ih (VOL STRIT, FATALNA PRIVLAČNOST, CRNA KIŠA, RAT ROUZOVIH, NISKE STRASTI), ovaj Di-Fens je jedan od najintrigantnijih i najbizarnijih junaka ili antijunaka koje je odigrao Majkl Daglas. I ma kako nas Šumaher, na kraju krajeva, i politički korektno, upućivao na loše poteze svog protagoniste, film je i u trenutku pojave, i sada, posle trideset godina, zanimljivim učinilo njegovo buntovništvo, krik protiv svakovrsnih idiotizama.
Zapažene uloge ostvarili su Robert Dival, tumačeći policajca koji će u poslednjim danima pred penziju morati da ganja "nekog ludaka koji je uzeo pravdu u svoje ruke", i Frederik Forest, koji je sjajno doneo lik homofobičnog neonaciste.