Review
U poslednjih 20 godina kineska kinematografija beleži stalni uspon i uspeh širom sveta. Tim pre što je rec o filmovima koji dolaze iz kulture koja je prilicno razlicita od ostatka sveta, ali i pored toga, u njima postoji univerzalno citljiv esteticko ikonografski jezik. Jedan od prvih kineskih reditelja koji je posle komunisticke diktature Mao Cedunga osvojio Zlatnog medveda na Berlinskom festivalu 1988. godine za film "Crvena polja" je bio Džang Jimou. Uporedo sa snažnim dramama epohe o životu u Kini, Jimou je širom sveta postao mnogo pozantiji po svojim fiktivnim istorijskim spektaklima sa do tada nevidenom koreografijom borbenih scena koja je postala svetski brend kineskog filma.
Poslednji Jimouov film "SHADOW" je istorijska prica o 2 kraljevstva koja se bore za prevlast teritorija. Zbog stalnih pretnji od ubica, kraljevi su na svoje mesto postavljali svoje dvojnike koji su kao i svaki vojnici zakleti na vernost kralju rizikovali svoj život da se bez straha suoce sa verovatnom smrcu. Ti surogat kraljevi su se zvali "Senke". U centru price je dinastija Pei ciji voda je upravo jedna od "Senki", pri cemu pravi kralj, bolestan na smrt, živi u katakombama dvorca. Usled nastalih ratnih tenzija sa dinastijom Džing, "Senka" istovremeno kuje plan kojim bi se otarasio zakonitog kralja prestola i postao jedini kralj dinastije Pei.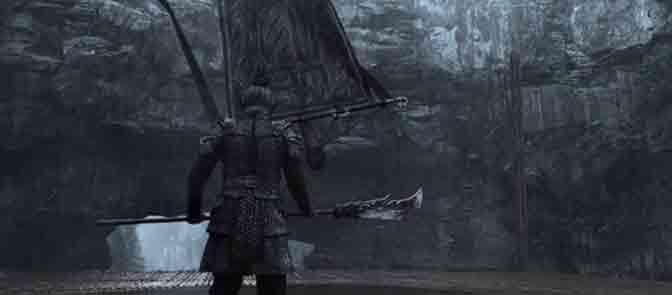 Iz ovakvog intrigantnog sinopsisa filma, moglo bi se zakljuciti da je upitanju još jedan spektakl prepun stilizovanih scena borbi koje su odlikovali raniji Jimouovi naslovi kao "House of Flying Daggers", ili "Curse of the Golden Flower". Oba filma su bila nominovana za Oskara u kategoriji za znacajno dostignuce u kinematografiji. Ovim filmovima, pored složenih i impresivno snimljenih masovnih scena borbi, nije nedostajala ni težnja za kompleksnijim dramskim okvirom izmedu aktera. Medjutim, "SHADOW" do sada predstavlja najslabije ostvarenje u toj žanrovskoj liniji filmova, ili bolje receno, postoji veliki disbalans izmedu formalno-estetskih i dramskih elemenata price. Jimou je još jednom uspeo da postigne fotografiju koja kod gledalaca izaziva divljenje i doživljaj epskog i fantasticnog. Filmom dominiraju sivi tonovi u svim mogucim valerima upotpunjeni neprestanom kišom koja pada tokom celog razvoja dogadaja što je istovremeno i svojevrsni ekspresionisticki kljuc kojim se otvaraju istorijska vrata raspoloženja i odnosa izmedu 2 dinastije. U odnosu na pomenute filmove, koloritnost scena borbi je prilicno prigušena (zatamnjena) i nema tu ocekivanu spektakularnost na koju su gledaoci navikli kod Jimouovih filmova. Ova Jimouova fotografska vizija, gde su redukovane boje, ne predstavlja toliki problem za samu estetiku filma kojom je on, možda, hteo da priguši elemente fantazije toliko karakteristicne za ovakve istorijske filmove pokušavajuci da ih slikom prikaže što realnije, a da ipak nekako zadrži ove elemente. Konacni rezulta je da sa narativnog aspekta, ipak, nije uspeo do kraja u ovome i kod gledalaca ostaje osecaj sumorne ispraznosti i nedorecenosti.
Usled prezasicenih formalistickih intervencija u filmu, guši si i sadržaj dramski elemenata, pri cemu odnosi izmedu likova, koliko god nagoveštavali napetost, na kraju postaju cisto formalni. Odnosi izmedi likova su staticni, a dinamika je jedino prisutna kada dolazi do direktnog fizickog sukoba izmedu njih. Posle toga se sve vraca na prvobitni odnos, bez ikakvih psihicko emocionalnih promena. U pojedinim scenama se ovaj nedostatak kompenzuje tako što akteri sviraju na jednom od kineskih tradicionalnih žicanih instrumenata ciji tonovi zamenjuju njihove verbalne odgovore. I u ovom slucaju je forma prenaglašena i razvucena, cak i više nego kod nekih borbenih scena. Sam rat izmedju 2 kraljevstva se cini da je takode zarad forme, tako da je ceo film mogao komotno da se podeli na muzicki spot u nastavcima i uz adekvatnu muzicku pozadinu bi i sama istorijska prica bila daleko verodostojnija.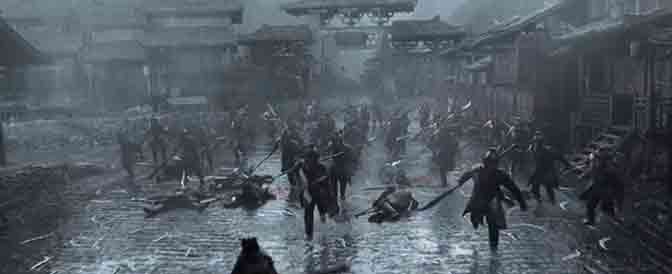 Šta na kraju još reci o ovom Jimouovom ostvarenju koje je ispod njegovih sineastickih standarda? Ako pripadate publici koja preferira fotografske kvalitete filma, onda ih "SHADOW" u potpunosti zadovoljava, jer je konacni utisak da se radi o pokretnom kolažu fotografija na površini filmskog platna. S druge strane, dramaturgija price je ostala na onom tasu vage koji je pao usled formalistickog preopterecenja price. Možda je još jedan od problema tokom gledanja filma i taj što struktura price mnogo više naginje kulturološkom kodu kineskog auditorijuma, pa nama kao gledaocima sa evropskog podrucja nedostaje adekvatan kljuc za dekodiranje, odnosno razumevanje svih delova te strukture. Sve u svemu, ako ste stalni pratilac Jimouovog opusa, onda svakako pogledajte "SHADOW" kao još jedno u nizu Jimouovih ostvarenja, ali ne ocekujte od ovog filma kvalitativni napredak u odnosu na njegova prethodna rediteljska postignuca.
About the Author

Aleksandar Jovanovic
Ekonomski fakultet Nis, Bluz, Filmovi, Stenli Kjubrik, Teksas, ZZ Top, Filmske Preporuke