Review
"Nemam ništa da kažem. Ja sam gospodin Niko, čovek koji ne postoji." Često sebi postavljam pitanje, da li je čoveku dovoljan samo jedan život? 1 je kao 0. A da imamo i 100 života, da li bi to bilo dovoljno?
Ovo je četvrti dugometražni igrani film Jaco van Dormael-a. Konacno neko da se pozabavi i ovom jako zanimljivom i ozbiljnom tematikom. Film je teško opisati jer se namerno ne poštuju tradicionalne narativne strukture. Scene koje prikazuju 2092. godinu su zaista lepo i kvalitetno odradjene i neki prizori su apsolutno zapanjujući. Uglavnom, glavna misao i  ideja filma je: Alternativni zivotni putevi
Glavni lik u filmu je Nemo, starac od 118 godina, pun tajni. Uglavnom, film prikazuje različite verzije bivstvovanja i postojanja koje um može sam sebi da imaginarno reprodukuje i da prikaže čovekov životni vek zavisno od odluka koje donosi "usput".
Film počinje sa Mr. Nobody, koji sada ima 118 godina, mada on i dalje misli da ima 36. Godina dešavanja je  2092, i on predstavlja poslednjeg smrtnika an zemlji i na samrti je. Nemo priča o životu i alternativnim životnim putavimakoje definisu drugacije sudbine. Ovaj genijalan film stalno okreće temu mogućnosti izbora, naglašuje važnost ili bezvrednosti odluka, i pokazuje da ponekad kompleksnost izabranog zavisi od slučajnosti. Život nije ništa drugo do partija šaha, koja nas moze dovesti do raznovrsnih iskušenja i na različite staze postojanja. Nemo u nekim situacijama baca novčić, jer viče nije sposoban a i nije siguran koja odluka je ispravnaa a koja ne, čak u toj kompleksnosti povezanih dešavanja on to i ne može znati, zbog toga mu je svejedno, šta god da izabere.  Otvorena su mnoga filozofska pitanja: izbori, njihovo značenje, zašto odabrati ovo ili ono, uzrok i posledice, i da li smo svesni toga.
Nemo je latinski izraz "niko". To je ime koje je dao Odisej Kiklop-u.
Soundtrack je takođe vrlo zanimljiv: "Mr. Sandman "," Everybody " i " Where is my mind? " su veoma poznate pesme sa još čuvenijim obradama. Klasične kompozicije su delo Pierre Van Dormael, što je i njegov posljednji soundtrack.
Glavni lik u filmu Nemo, kada se izgovara unazad je" omen ", glasnik budućnosti. Njegova najveća ljubav u filmu, Anna,  i njegova kći Eve, koje kad se čitaju unazad ispadaju isto.
Značenje filma je mnogo više od filozofske sf senzancije. Film govori o individualnom izboru i sudbini, sa koktelom astrofizike, snovima i sećanjima.
"Ponekad me ljudi mogu zvati gospodin C-R-A-F-T – Can't Remember A Fucking Thing – čovek koji se ne može setiti ničega"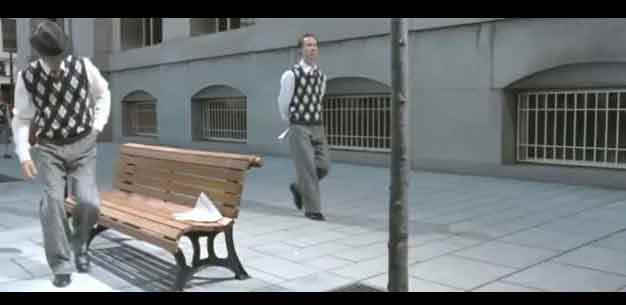 Ovaj film će vam doći dobro i osvezavajuce pored gomile glupih filmova koje ste slucajno ili neizbežno pogledali u zadnje vreme :).
Mr. Nobody je briljantno ukomponovano remek-delo, lep kinematografski doživljaj sa nezaboravnim nadrealizmom, lepo naglašeni osećaji pamćenja i obojeni živim vivid bojama , intelektualna i vizualna interaktivnost sa gledaocima, sa magičnim stilom belgijanca Jaco van Dormael'a.