Review
Kada se radi o ovakvim 3D bućkurišima, čovek sebi postavi piatnje da li uopšte da prozbori koju reč o njihovom receptu. Ali, i pored toga, treba se na kratko setiti pojedinih filmovima koji su sa minimumom kompjuterske tehnologije(tada, još uvek na daleko nižem nivou nego danas ), a mnogo više uz metod "krpi, lepi, ušivaj" uspevali da stvore jedan autentičan svet fantazije, onda su rezulati poražavajući.
Očigledno da je prošlo vreme kada se još uvek vodilo računa da specijalni efekti i filmski zaplet budu "braća po oružju". Danas, iz ovog oružja, i to uz gomilu ćoraka, puca najnaprednija filmska tehnologija, i da paradoks bude još veći, ona lično ubija sve ono što ima veze sa atributom "filmski".
[youtube]http://www.youtube.com/watch?v=Tw_-jAeRmwc&feature=youtu.be[/youtube]
Bilo bi isuviše detaljno baviti se četvrtim poglavljem "Underworld" serijala, osim kao još jednim ortodoksnim primerom filma(?) gde  "spiritus movens" čine kompjuterski grafički dizajneri bez, kako se čini, elementarnog znanja o filmskoj režiji koje intuitivno ima svaki prosečan filmofil.
Elem, za razliku od prethodnih "Underworld" nastavaka koji su, koliko toliko, vodili računao zapletu, ili što bi rekle akademske glave o "drami", četvrto pojavljivanje vampirice Selene (doduše u 3. filmu krajnje epizodno ) u tamnoj kombinaciji kože i lateksa je premazano toliko debelim slojem CGI boja od koga se vrlo teško nazire jezgro priče, ako ga uopšte ima.
Geneza novih likova(Selenina kći i nekakva nova vrsta megamutiranog vukodlaka više nalik karikaturi dlakavo gologuzog Hulka) je nepromišljeno izvedena i nalikuje lošem plodu bez korena i sadržaja. Čak su i CGI efekti vrlo blizu nivou drugog filma iz serijala "The Mummy"  snimljenog pre nešto više od decenije.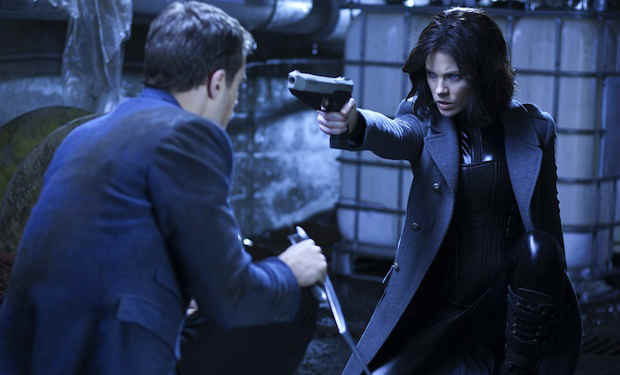 Interesantna je činjenica vezana za prethodno pomenuti film da su majstori za specijalne efekte morali da požure sa njihovom implementacijom zbog neusklađenosti postprodukcijske faze i zakazane premijere filma čija nedovršenost nije mogla da promakne oštrom oku kitike, čak, i za tadašnje standarde.
Posle svega, ostaje samo nada da su ovakvi filmovi još samo jedan trend, iako se pokazalo da ovakva vrsta filmova više profitira ukoliko ima više CGI efekata, pa makar to bila sramna, karikaturalno digitalizovana Hulkova persona! Da li će u budućnosti konačnu prevagu u oblasti filma odneti sintetika virtuelne stvarnosti kojoj filmofili sve manje veruju, ili će se filmski realizam vratiti na pijedastal koji zaslužuje (jedan od retkih svetlih izuzetaka u redu ovakvih filmova je "Batman" Kristofera Nolana) ostaje da se vidi!