Review
"Beyond the Hills" (2012) je rumunski film sa tacnim prevodom "Ispod brda", dok se na nasim prostorima moze naci prevedeno kao "Iza brda" sto sasvim gubi smisao kad pogledate film.
Ukratko prica govori o prijateljstvu i ljubavi izmedju dve devojke koje su odrasle u sirotistu u Rumuniji i provele svoju mladost zajedno. Kasnije one odlaze, svaka, na svoju stranu. Alina radi u Nemackoj, dok je Vojcita nasla smisao u zivotu u Manastiru. Alina vise ne moze da izdrzi sama u Nemackoj i sa namerom da se ponovo zblizi sa Vojcitom dolazi u posetu devojci koja sada zivi mirnim zivotom u maloj pravoslavnoj zajednici,
Film je rezirao Cristian Mungiu, kojeg se vecina seca zbog filma "4 Months, 3 Weeks and 2 Days (2007)" (4 meseca, tri nedelje i 2 dana). Zaista jos jedno jako solidno ostvarenje ovog jako talentovanog reditelja. Film traje 150 minuta, ali ne moze se reci da je u bilo kom trenutku dosadan, iako je film sporog tempa. Prica je inspirisana stvarnim dogadjajima kao i ne fikcijskim delima rumunske spisateljice Tatiane Niculescu Bran.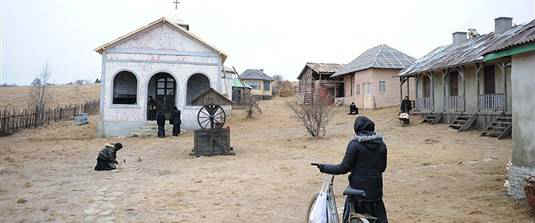 Termin "Isterivanje Djavola" i obred samog postupka se i dalje odrzao u izvesnim socijanim krugovima i prikazuje se u sadasnjem vremenu.
Film je ove godine odlicno prosao u Kanu. Nagrada za najbolji scenario i najbolju zensku ulogu. Gluma je na jako visokom nivou, kako glavnih tako i sporednih aktera.
Dijalozi sa lepo doziranim humorom osvezavaju film u pravilnim razmacima. Takodje, film je ispresecan mnostvom malih priica koji nam pricaju obicni ljudi koji cini se bez namere nasli u nekim scenama filma "Beyond the Hills" i onda u nekoliko recenica pricaju svoju ili neciju zivotnu pricu. Ove umetnute pricice su su jos jedan ukras za film, po strukturi proste ali po uticaju veoma znacajne parabole, koje daju dodatni smisao filmu, koje je sam reditelj hteo vesto na neobican nacin da iznese,  uporedi i prenese.
Film "Ispod Brda" treba pogledati, ali ovo filmsko ostvarenje nije za svakoga!