Review
Film John Waters-a iz 2000 godine, Cecil B. DeMented, je prava poslastica za sve underground umetnike, koji se svakodnevno bore za svoja dela, i spadaju u kategoriju polu ogorcenih ljudi kojima je dojadilo da gledaju savremene gluposti.
Na imdb, ovako su opisali film: "Poludeli nezavisni (independent – ova rec u filmskim krugovima znaci vise nego nezavisan) filmski reditelj i njegova osvetnicka i odmetnicka art grupa tinejdzera kidnapuju poznatu A holivudsku glumicu i primoravaju je da glumi u njihovom underground filmu".
[youtube]http://www.youtube.com/watch?v=LMmKfKCZoTk[/youtube]
Ja bi to ovako opisao. Cecil B. Demanted i njegova gerila grupa (crew) koja se zove Sprocket Holes ili Poslednje Rupe u prevodu, se bori za svoju viziju "no budget" filma "RAVING BEAUTY". Cecil ima svoja pravila i ostali u grupi moraju da ih postuju. Jedno od ovih pravila je da svi moraju ostati u celibatu dok se film ne snimi. Znaci nema trosenje energije (u ovom slucjau seksualne) na bilo koj drugi nacin, sem za snimanje filma.
Poznata holivudska zvezda Honey Whitlock, koju u filmu odlicno glumi Melani Grifit, je na premijeri svog najnovijeg filma "SOME KIND OF HAPPINESS". Osvetnici koriste ovu priliku i kidnapuju je pred ocima javnosti i odvode u svoje skroviste, napusteno pozoriste. Cecil je ovom prilikom javno objavio rat losoj kinematografiji. Njegov pravac i stil snimanja on naziva ultimativna realnost "ultimate reality" – "real life, real people … and yes real terror".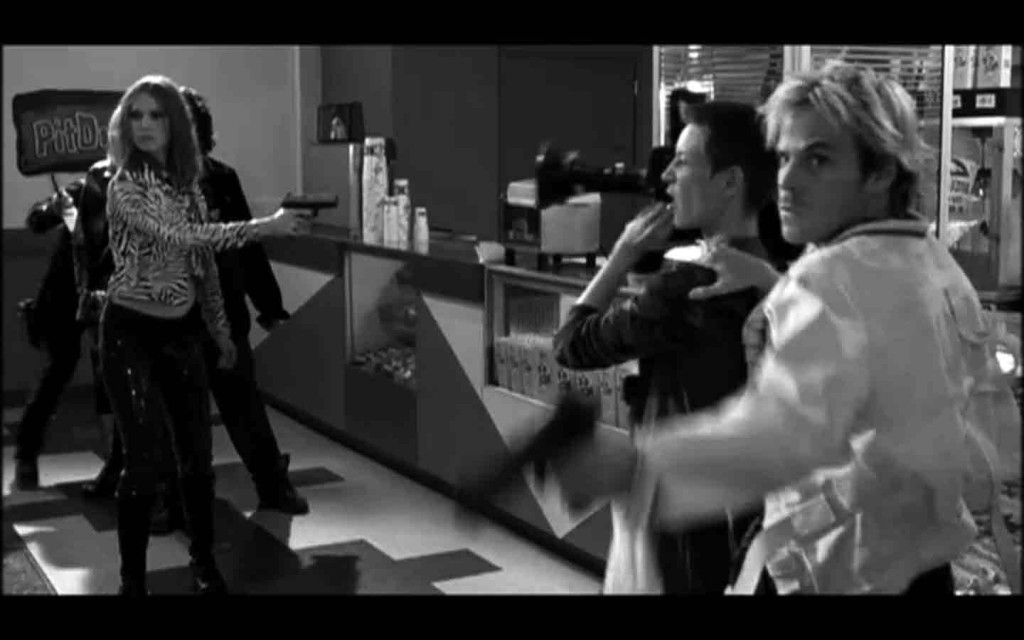 "Cinema Wars" kako su ga preveli u dosta zemalja, upravo opisuje to bezizlazno stanje mladih umetnika, u ovom konkretnom slucaju mladih reditelja. Pobuna kao jedini nacin. Ali ko bi to mogao bolje da uradi nego Dzon Voters. Film me je malo podsetio na Bowfinger sa Stivom martinom iz 1999, tematika je slicna ali je pristup dosta razlicit. U ovom filmu Cecil, u interpretaciji John Watersa, pokusava da bar za momenat zaustavi mainstream, oznacavajuci da bilo sta da je mainstream, mora prosto biti lose. Waters je prikazao pravi Holivud, onako kako ga on vidi. Cecil je istovremeno i heroj i antiheroj u filmu.
Kao sto smo navikli da gledamo kod John Waters-a, i ovaj film ne odskace od toga, totalno drugaciji od ostalih holivudskih ostvarenja. Krenuo je dalje od svoje omiljene teme, koja se odnosi na unistavanje bilo koje vrednosti i znacaja porodice, sada je na tapetu "cinema". Ona mora kao takva umreti, poruka je Watersa.
Ovo ce biti i ostati kultno ostvarnje za mnoge generacije filmmakera koje dolaze. U filmu ima dosta kultnih recenica poput:
"Mi verujemo da je tehnika samo zamena za neuspeli stil"
Slika ispod prikazuje John Watersa na premijeri filma sa svojom partnerkom, pozvanu u tu cast.
Brilijantna i histericna satira holivudskih filmova!
Ovo su tetovaze pripadnika "Poslednjih rupa":
Cecil – Otto Preminger – leva nadlaktica
Cherish – Andy Warhol – bedro
Lyle – Hershell Gordon Lewis – grudi
Pam – Sam Peckinpah – leva ruka
Chardonnay – Spike Lee – stomak
Lewis – David Lynch – pesnice
Fidget – William Castle – grudi
Raven – Kenneth Anger – grudi
Rodney – Almodovar (presumably Pedro) – desna ruka
Petie – Fassbinder – levo rame
Dyna – Sam Fuller – desno rame