Review
Opste je poznata stvar da se americka demokratija, upravo, najvise dici svojom.
[youtube]http://www.youtube.com/watch?v=tEGH_VpWUtI[/youtube]
nedodirljivom nezavisnoscu pravosudnog sistema koji bi trebalo da bude brana svakoj eskalaciji moci drzave. "NOTHING BUT THE TRUTH", medjutim, pokazuje da je u ovom odnosu drzava ta koja je apsolutno nedodirljiva u svojoj moci kada treba po svaku cenu uhapsiti novinara koji u javnost nije izneo nista osim istine.
Naime, Rejcel Armstrong (Kejt Bekinsejl) je novinarka kojoj je izvor dao inforamcije o identitetu CIA-nog agenta koji je nakon istrage u Venecueli podneo izvestaj vladi da ta zemlje nije organizovala atentat na americkog predsednika pre nego sto je bila bombardovana. S obzirom na ovakav zaplet moglo bi se ocekivati da "NOTHING BUT THE TRUTH" bude uzbudljiv politicki triler koji ce se na ozbiljan i objektivan nacin baviti americkim vojnim mesetarstvom po svetu i stvarnim odnosom izmedju "slobodnog" novinarstva i drzavne politike. Medjutim, onog trenutka kada Rejcel bude uhapsena, cela prica se prenosi u ravan zatvorsko-sudske drame, pri cemu se gubi nit sa pocetnom idejom. Od tog trenutka film se mnogo vise bavi Rejcel kao majkom, koja je zarad svog principa prihvatila da bude optuzena za izdajstvo, nakon cega biva poslata u zatvor.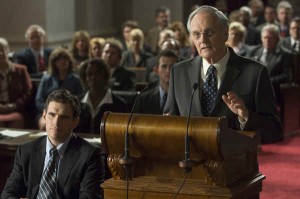 I pored toga, film je i vise nego gledljiv, i to zahvaljujuci odlicnoj glumi Kejt Bekinsejl koja predstavlja dobru ravnotezu izmedju krhke majcinske figure i novinara profesionalca koji ujedno brani i licni integritet kroz cvrst princip neodavanja svog izvora. Takodje, treba pomenuti i Met Dilana, koji je potpuno ubedljiv u ulozi upornog i beskrupuloznog specijalnog tuzioca, i koji upravo predstavlja polugu drzave koja sve vreme, bezeci od sopstvene odgovornosti, cini sve da od ociglednih zrtava napravi glavne krivce. S druge strane, Dejvid Svimer, kao suprug namucene Kejt Bekinsejl, je apsolutni promasaj. Skoro u svakom kadru tupavost njegovog pogleda je nedokuciva.
U pojedinim scenama film sa dosta tacnosti, ali ne i sa dovoljno ostrine, ukazuje na trenutno stanje u americkim medijima koji krupnim slovima objavljuju gde je vecerala Paris Hilton, pri cemu hapsenje novinara, kao dogadjaj, ima manji znacaj od fusnote.
"NOTHING BUT THE TRUTH" ocigledno ukazuje na opasnost od sve veceg drzavnog intervencionizma koji je narocito izrazen u onom njegovom delu kada se na krajnje represivan nacin i bez pardona gusi glas javnosti gde se stvara atmosfera u kojoj advokatima ne preostaje nista drugo nego da brane kvalitet marke odela ili sata koje nose na sebi.
Na zalost, "NOTHING BUT THE TRUTH" zastaje na pola puta, cime gubi na svojoj ostrini, i odlucuje da nam umesto prave istine ponudi, ipak, nesto drugo.