Review
Dark Gradient of the atmosphere
Glavna junakinja, koja je opsednuta baletom, dobija ulogu u cuvenom baletnom performansu "Labudovo jezero". Njena uloga, koja joj savrseno pristaje je White Swan – princeza Odette – polako nestaje i Nina Sayers sa vremenom gubi svoje mišljenje i ona postaje sve više i više kao Odile, Black Swan.
Teorija crnog labuda ili "Black Swan events" je metafora koja predstavlja koncept događaja koji predstavljaju iznenađenje (za promatrača) i ima veliki uticaj na njega kasnije. "Crni labud dolazi od metafore za nesto obratno i nepredvidljivo". Ovu teoriju je razvio Nassim Nicholas Taleb.
[youtube]http://www.youtube.com/watch?v=5jaI1XOB-bs[/youtube]
Vincent Cassel se odlično snasao kao naporan i mističan učitelj baleta.  Natalie Portman, to jest Nina, postaje opsednuta ovom predstavom, koja je sve više i vise odvodi u ludilo. Thomas Leroy, reditelj predstave i njen ucitelj, je sve vise pritiska i pokusava da je malo opusti i da dovede ulogu do savrsenstva. White Swan postaje sve vise osetljiva, labava i krhka, polako bledi i ostavlja mesto destruktivnoj Black Swan. Ona postaje sve manje i manje svesna onoga šta je oko nje izobličenje a šta stvarnost. Darren Aronofsky je pokazao sposobnost da odlično prikaće psihološko pogoršanje ličnosti.
Kretanje kamere je veoma dobro i predstavlja odlicnu podlogu za horor atmosferu. Darren Aronofsky i Natalie Portman nose ovaj film. Simpaticna Nina, sa veoma opsednutom majkom da postane vrhunska balerina,  postaje i sama fizički i psihički opsednuta, kombinuje belog i crnog labuda, kada je kako to potrebno. Film predtsavlja mračnu vožnju u ludilo usled potrage za savršenstvom.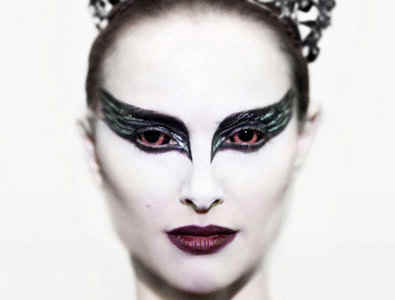 Poslednji deo filma, mi se nije toliko dopao, racunajuci poslednje scene sa publikom.
Impulzivni komad umetnosti, psihološki triler Darrena Aronofskog sa sa životnom ulogom Natalie Portman, prikazuje ravnotežu između dobra i zla u jednoj osobi, sirovi, prljavi i tamni kadrovi nepredvidive kamere, predstava koja će vas voditi postupno u jedan drugačiji svijet u umu jedne devojke sa preciznim i prelepim delom Cajkovskog "Labudovo Jezero".