Review
N
akon uznemirujućeg "WOLFCREEK", gde poremećeni pustinjak otima i mučki zlostavlja troje putnika negde po pustunjskim zabitima Australije, iz radionice Grega Meklina, stiže još jedna uzbudljiva priča smeštena u vodama tzv. Severne teritorije gde caruje populacija slanovodnih krokodila.
[youtube]http://www.youtube.com/watch?v=Ur7CpX16xXE[/youtube]
Ko se boji krokodila još?
Iz ovoga nije teško zaključiti da će se grupi turista na krstarenju jedno idilično putovanje pretvoriti u grozničavu borbu za preživljavanje. Sama ideja ne predstavlja ništa novo, s obzirom da su čvrsti standardi za ovakvu vrstu ostvarenja postavljeni još od kultnog "JAWS" i kao takvi opstali do današnjeg dana. Poštujući već definisana pravila, i "ROGUE" mudro ne pokušava da napravi nešto revolucionarno, ali krajnji utisak govori da je u pitanju vrlo dobar horor koji uspešno kombinuje nekoliko aspekata priče.
Za prvu polovinu filma se može reći da predstavlja vizuelno bogatu reportažu o divljoj australijskoj prirodi, obojenoj gorostasnim klancima, velelepim meandrima i ćudljivom faunom, pri čemu sve to nimalo ne odstupa od glavnog toka priče. S druge strane, turiste čine ljudi iz srednje klase, što celoj priči daje jednu prirodniju i životniju atmosferu, za razliku od holivudskih karaktera koji su uglavnom predstavljeni kao bogataši, histerični i ultraegocentrični lovci na zveri, istraživači, i uopšte nabeđeni tipovi. U tom smislu Kejt je običan vodič koja u životu nikada nije napuštala Severnu teritoriju, Pit je sitan novinar nezadovoljan načinom na koji obavlja svoj posao, Rasel je udovac koji je krenuo na krstarenje da bi prosuo pepeo svoje mrtve žene. Na krstarenju se nalazi i suzdržani par kod koga se naslućuje bračna kriza. Dakle, svi oni su ljudi koje bismo zasigurno sreli na nekom sličnom putovanju. Svako od njih je nešto izgubio u životu ili mu nešto nedostaje, pri čemu niko od njih ne sluti da će ceo rajski ambijent koji ih okružuje postati test njihove hrabrosti i digniteta. Što se tiče samog džinovskog krokodila, i tu postoji bitna razlika u tretmanu od onog što smo imali prilike da vidimo kod holivudskih čudovišta u poslednjoj deceniji. Svi se verovatno nerado sećamo debakla zvanog "ANACONDA" gde se gmizavac ponaša na svakojake načine samo ne u skladu sa svojom prirodom. Elem, dotična zmijurina skviči kao vepar, kreće se kao četvoronožac, mršti kao čovek i pokazuje zavidan nivo ljudske inteligencije i proračunljivosti u pojedinim situacijama. Na svu sreću, verovatno svestan ovakvog krajnje besmislenog pristupa, Greg Meklin je kreirao prilično uverljivog gmizavca, mada, ruku na srce, deset puta većeg od najvećeg krokodila koji se može sresti u prirodi, ali koji se, bar u lovu na plen, ponaša sasvim u skladu sa svojim životinjskim instiktom i navikama.
Takođe, jedan od kvaliteta filma predstavlja činjenica da se režiser nije rukovodio krilaticom "što više krvi to bolji film", što dokazuju i scene napada krokodila veoma efektno i promišljeno režirane bez dodatnog preterivanja i iživljavanja.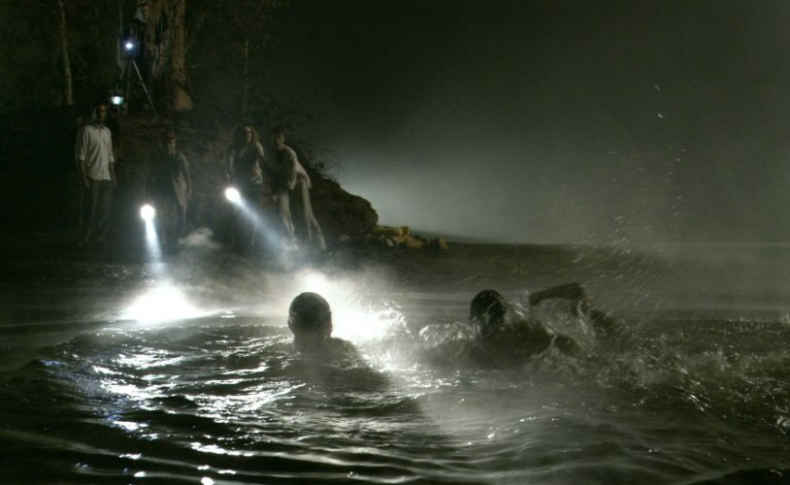 Osim toga, transformacija nesrećnika od običnih ljudi ka hrabrim personama nije praćena ekstremnim psihološkim pomeranjima, već su svi likovi ostali ono što su i bili s početka filma – obični ljudi u neobičnoj situaciji.
Sve u svemu, "ROGUE" je i više nego korektno snimljen film na već poznatu temu gde se naziru iskre njene istinske revitalizacije, koja je u prethodnom periodu zaustavljena zahvaljujuci holivudskim budalaštinama, kakva je i ona obučena u kožu anakonde.
Sve ovo je dovoljan razlog da se upustite u jedan impresivan i realističan strava safari po australijskim vodama.