Review
Nakon što je jedna od najdugovečnijih filmskih franšiza doživela kreativni krah (deo serijala o agentu 007 koga je tumačio Pirs Brosnan), popularni britanski agent uzima novi kvalitativni pravac pod rediteljskom palicom Martina Kempbela čime se serijal vraća na put sa koga je prilično skrenuo u egzibicije koje su bile preterane, čak, i za jednog neuništivog Džejms Bonda. Nešto uglađenijeg Pirs Brosnana je u ulozi agenta 007 zamenio rustični Danijel Krejg čija je fizionomija mnogo više odgovarala stripskoj verziji čime je namerno, ali funkcionalno opravdano razgrađen mit o "savršenom" agentu (Dž. Bond je predstavljen kao impulsivna osoba sklona pogrešnim odlukama i procenama).
"Casino Royal" je bio potpuno nov početak i dugo očekivana reanimacija neophodna da bi se uopšte nastavio filmski život Dž.Bonda. Uspeh je bio ogroman, s obzirom da je 21. film o Dž. Bondu bio u tom trenutku najkomercijalniji u dugoj istoriji serijala. Usledio je znatno nekonzistentniji "Quantum Of Solace", u režiji Mark Forstera, koji je franšizu vratio jedan korak unazad. Na sreću, ali i sa podjednakim iznenađenjem, za "spiritus movens" sledećeg filma izabrano je ime ozbiljnog rediteljskog gabarita – Sem Mendez (American Beauty, Road To Perdition,…). Ovim je "Skyfall" napravio hrabar estetički iskorak čime je svet Dž. Bonda dobio primetno novi kolorit koji do tada nije bio prisutan u ranijim filmovima. Uz kombinovanje ikonografskih elemenata klasičnog Dž. Bonda (automobili "oldtajmeri", eksplodirajuće olovke i sl.) sa kompleksnijim scenarijem i dramaturgijom likova, "Skyfall" je strogo posmatrano sa aspekta filmova o "007" dodirnuo i sferu umetničkog oblikovanja u svom domenu.
[youtube]https://www.youtube.com/watch?v=ashLaclKCik[/youtube]
Na žalost, 24. film u serijalu, i pored ponovnog angažovanja Sem Mendeza da ponovi uspeh prethodnog filma, ipak, nije u tolikoj meri urodio plodom. U "SPECTRE"-u je ponovljena formula kombinovanja starog i novog, ali ne sa takvim efektom kao u prethodnom filmu. Istinskim fanovima agenta 007  je u sećanju ostao epizodni negativac sa gvozdenim zubima pod nadimkom "Jaws", koga je tumačio,i  to u doslovnom smislu reči, preko 2 metra visok glumački džin, Ričard Kil. U "SPECTRE"-u je načinjena neka vrsta replike uvođenjem sportskog teškaša i jedne od zvezda blokbastera "Guardians Of The Galaxy", Dejv Batiste, u ulozi nemog ubice Hinksa koji je očigledna umanjena verzija Ričard Kila, ali ne i tako autentična kao "Jaws" (Hinks ima gvozdene nokte što predstavlja aluziju na gvozdene zube). Epizoda u kojoj se pojavljuje Monika Beluči je, osim zvučnog imena, potpuno nepotrebna za dalji razvoj, ionako, razvučene priče. Vidljiv je i pokušaj da se ponovi uspeh glumačke hemije kome je doprinela Eva Grin u ulozi Vesper Lind, bivše Bondove devojke iz  "Casino Royal"-a, kroz novu Bondovu izabranicu koju tumači francuska glumica Lija Sidu. I to, do te mere da je flert između njih dvoje smešten na isti način u vozu što je svojevrsna kopija u odnosu na "Casino Royal". Što se tiče glavnog negativca, Franc Oberhauzera, čije je odelo obukao simpatični austrijanac Kristof Valc, ni on nije dostigao nivo upečatljive interpretacije kao mračno sjajni Havijer Bardem u "Skyfall"-u.  Dakle, ako se napravi poređenje sa prethodnim filmovima, "SPECTRE" stoji u istoj relaciji kao "Quantum Of Solace" prema "Casino Royal"-u. Jedan korak unazad. Doduše, i nije toliki problem kod Sem Mendeza koji uspeva da održi ritam i uzbudljivost priče, koliko u scenarističkim prazninama i neinventivnosti. Postoji nekoliko izvanredno reižranih akcionih sekvenci (uvodna scena, automobilska potera između Bonda i Hinksa u gotovo operetskoj formi), i pitanje je kako bi se neki drugi reditelj snašao sa istim materijalom.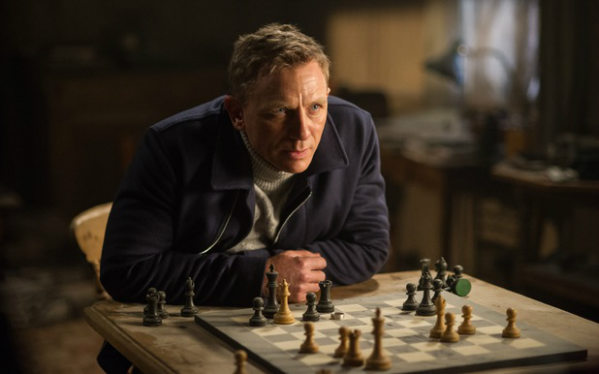 Na kraju smo dobili, i ne toliko svežu i novu avanturu agenta 007, koliko selektivnu reciklažu od najboljih momenata starih i relativno starijih filmova o Dž. Bondu. Ove slabosti, najverovatnije, neće uticati na smanjenje fanova Dž. Bonda koji, pre svega, traže spektakularnu "hi-tec" akciju. Ali, i pored toga, ostaje činjenica  da  je "SPECTRE" zakazao u proširenju spektra tajanstvene prošlosti agenta 007, na način koji je nagovestio i pripremio odlični "Skyfall".
[youtube]https://www.youtube.com/watch?v=7GqClqvlObY[/youtube]