Review
Kako ne voleti Tarantina
           Quentin Tarantino je rok zvezda u koži reditelja. Amerikanac, koji je odrastao po videotekama, u njima gledao sve što se tamo moglo gledati, genijalni je kompilator (ovo nikako ne shvatiti u pežorativnom smislu) koji u svojim filmovima, koristeći specifične rezove, muziku, montažu, snimanje jedne scene iz različitih uglova i pripovedanje "unatrag", od poznatih filmskih obrazaca pravi samosvojno i originalno delo, uglavnom uvek "retro" i gotovo po pravilu, tarantinovski kul. Ako je svoja najbolje dela napravio na početku rediteljske karijere ("Reservoir Dogs" i "Pulp Fiction"), čini se da od Jackie Brown Tarantino nije imao ovako moćan i koherentan film. Okej, Kill Bill je bio poseban po ekstremnoj upotrebi nasilja, citatima iz kung fu filmova i  estetici preuzetoj iz stripova ili crtanih/animiranih filmova, ali ovaj film, kao i potonji samo je potvrdio talenat i hrabrost Quentina Tarantina da radi ono što niko drugi ne ume tako dobro, a to je da poentira od koktela nasilja, političke nekorektnosti, crnog humora, uvek zadržavajući svoj osobeni rukopis.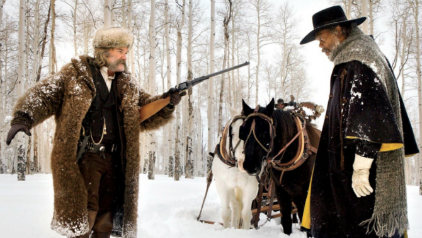 Za " The Hateful Eight", Tarantino nas, uz pomoć specijalne kamere, koja je u današnjem filmu prava retkost i više se ne koristi (Ultra Panavision 70 mm), šalje u zavejani Vajoming, u vreme posle američkog građanskog rata, gde u 2 sata i 40 minuta pratimo osmoro protagonista u prostoj priči u čijem se centru nalazi Daisy Domergue (J.J.Leigh). Ova žena, opasni  kriminalac, osuđena je zbog ubistva, te je lovac na glave, John Ruth ( Kurt Russell), sprovodi kočijom u mesto gde će biti obešena. Kočijom putuju sa novim šerifom Red Rocka Mannix-om  i bivšim vojnikom, raščinjenim majorom severnjačke vojske a sadašnjim lovcem na glave, Marquisom Warren-om (Samuel L. Jackson) Prvi deo filma odvija se u kočiji, a ostatak u kolibi u kojoj se četvoro putnika iz kočije sklanjaju od mećave i upoznaju sa ljudima koji se tu nalaze, a u čiji pravi identitet sumnjaju lovci na glave. Osim dužine filma, Tarantinu se nema šta prigovoriti; možda je lik koji tumači Tim Roth slabija kopija Christopha Waltza iz ranijeg ostvarenja a  lik koji igra Michael Madsen kopija samog Madsena iz svih Tarantinovih filmova (ali šta bi Michael Madsen i mogao da igra osim ćutljivog i opakog krininalca). Puritanci su mu zamerili zbog nasilja i preterane upotrebe reči "crnčuga", ali njegovi filmski likovi savršeno dočaravaju vreme posle građanskog rata, vreme u kojem ljudski život ne znači ništa, u kojem kriminalci i zakon često menjaju mesta, i u kojem, generalno, nema pravih pozitivaca. Svi su u ovom filmu prikazani kao zloće, osim vlasnika kolibe u kojoj se film odigrava, Sweet Davea i Minnie i njihovog osoblja. Na neki način, ovaj postupak primenjen je i u Uličnim psima, u kojem se većina filma odvija u skladištu. Ovde se, u kolibi, odmotava atipični western, koji u sebi sadrži iznenadne nasilne prekide dugih razgovora ljudi unutar kolibe i otkrivaju se, ispričani na tarantinovski način, događaji koji su prethodili ovom sudbonosnom susretu. Jennifer Jason Leigh je fantastična, Russell i Jackson standardno dobri. Iznenađenje je Walton Goggins kao šerif Mannix. U filmu igraju i legendarni Bruce Dern, Demian Bichir, Channing Tatum…
[youtube]https://www.youtube.com/watch?v=gnRbXn4-Yis[/youtube]
          Dakle, i svojim osmim filmom, Tarantino pokazuje ogromni talenat i sasvim posebno mesto u filmskoj industriji. Autor muzike za ovaj film bio je čuveni Ennio Moriccone, klasik, čiji su zvučni doprinosi neizostavni delovi uspeha špageti vesterna a kasnije i gangsterskih saga. I to je, između ostalog Tarantino, sa svojim njuhom da spaja moderno i prošlo, da krši konvencije, da nervira prosečne, da se igra filmom i pritom stvara moderne klasike za klince kojima nije poznat ni Džon Ford, ni Sam Peckinpah, Ni Sergio Leone, ni svi ti B slasheri i kung-fu filmovi koje je on "gutao" kao klinac opčinjen filmom. I u tome je njegova najveća zasluga, on hrabro pronosi baklju dalje i pomera granice. I pritom nas sve dobro zabavlja.