Review
Film Ip Man je u osnovi biografski film o coveku koji je naucio Brus Lija borilackim vestinama. Cuveni Kung Fu majstor: Ip Man. Tacniji naziv ove borilacke vestine, odredjene grane "martial art-a", je Wing Chun (Ving Tsun ili Wing Tsun). Ovo je kineska vestina bazirana na tradicionalnom konceptu zivljenja duha. Upotrebljava se iskljucivo za samo-odbranu i istice se uglavnom kratkim i brzim udarcima, kad su protivnici jako malo udaljeni jedan od drugog, to jest kad su jako blizu.Yip Man (1893 – 1972), u svetu vise poznat kao Ip Man ili Yip Kai-Man, bio je najpoznatiji kineski majstor borilačkih veština. Yip se smatra osnivacem Wing Chun-a, to jest, prvi covek koji je otvoreno krenuo obucavati wing chun martial art. Imao je nekoliko poznatih učenika ukljucujuci i legendu borilackih vestina i filmskog glumca "Bruce Lee-ja". U razvitku Kung Fu-a, Ip Man ce ostati veoma vazna i kljucna figura.
[youtube]http://www.youtube.com/watch?v=1AJxXQ7xojE[/youtube]
Dobro, a sad malo o ovom odlicnom filmu. Prica prati (u prvom delu) Ip Mana koji zivi u Kineskom gradu po imenu Foshan, koji je jako poznat po borilackim vestinama. Radnja se odvija za vreme Drugog Svetskog Rata kad je Kina bila pod okupacijom Japana. Japanci su vec uveliko koristili vatrena oruzja, pa su videli "ove" vestine kao zastarele i beskorisne, jedino mozda zanimljivim u sferama dokazivanja i takmicarskom duhu.  Ip Man nema svoju skolu, i veci problemi nastaju kad japanci okupiraju grad kao i citavu drzavu. Oni veruju da poseduju bolje znanje za borilacke vestine od kineza. Ip Man krece da se bori za svoju zemlju i da sacuva svoju porodicu.
Drugi deo prati istoimenog junaka, koji zivi u veoma teskim materijalnim uslovima, i pokusava da sto vise ucenika dovede u svoju skolu za borilacke vestine. On biva prinudjen da se preseli u Hong Kong.
Prvi deo je znatno bolji od drugog. U drugom delu se vidi uticaj zapada i njihovo vidjenje akcionih filmova, i uz to ima malo koriscene Roki (Rocky) fransize.
U svakom slucaju, treba pogledati oba filma, na kojima je fotografija prelepa, boje odlicno uskladjene i mozete prisustvovati veoma dobro odradjenim borilacnim filmskim borbama.
Evo scene kad se Ip man bori sa deset crnih pojasa istovremeno:
[youtube]http://www.youtube.com/watch?v=yF6Jyxc16vU[/youtube]
Evo slike Ip Mana sa Brus Li-jem: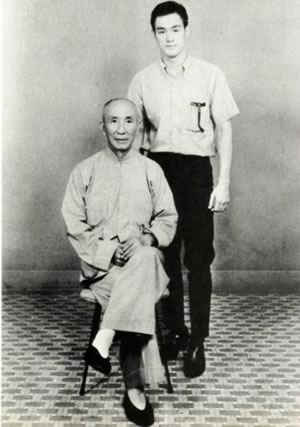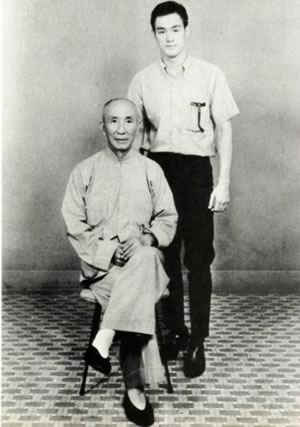 Sam Ip man govori nekoliko zanimljivih poruka i pouka u ovom serijalu.
"Ja ne pokušavam dokazati da su kineske borilačke veštine bolje od zapadnog boksa. Ono što želim reći je da, iako pojedini  ljudi imaju drugačiji i razliciti status od drugih, svacije dostojanstvo je isto"
"Shvatio sam danas da sam beskorisan. Ja ne mogu ništa učiniti. Vezbam borilacke vestine, kao da ce to nesto pomoci? Ovaj svet je tako mali, a ja sam beskoristan. "