Review
Film "La Notte" je jedan od centralnih filmova, kako u sopstvenoj trilogiji, tako i u kompletnom opusu, italijanskog reditelja Mikelandjela Antonionija. On je za ovaj film mogao i da priušti, tada veoma poznatog glumca, Marcello Mastroianni-ja.
Antonionijeva trilogija, ima kao centralnu ideju – egzestencijalnu melanholiju novog tehnološkog modernističkog društva, koji je dostigao jedan od svojih oblika i šezdesetih godina u Italiji a naročito u Milanu i većim industrijskim gradovima, koje u svojoj potrazi za novim zadovoljstvima, isključuje duhovnu komponentu. Može da se povuče i paralela vezana za sadašnju egzistenciju i probleme, u svetu gde intelekt i emocionalna ispražnjenost idu zajedno. Monica Vitti, glumica koja igra glavnu žensku ulogu (Valentina) u filmu "Noć" je rediteljev alter ego. Anksioznost usled uticaja moderne tehnologije i načina života (vrednovanja stvari) je prisutna u vazduhu, toliko očito i snažno, kao azot i kiseonik.
1962 L'Eclisse
1961 La Notte
1960 L'Avventura
Noć
U centru zbivanja je pasivno funkcionalan par i noć koja polako pada na njihovu srećnu ljubav i na njihov intelektualni brak. Tragovi dana, vode u noć, na jednu zabavu, milionerskog prizvuka. Svaki bogati biznismen ima svog intelektualca, a u ovoj priči, to je poznati pisac Giovanni Pontano koga tumači Mastrojani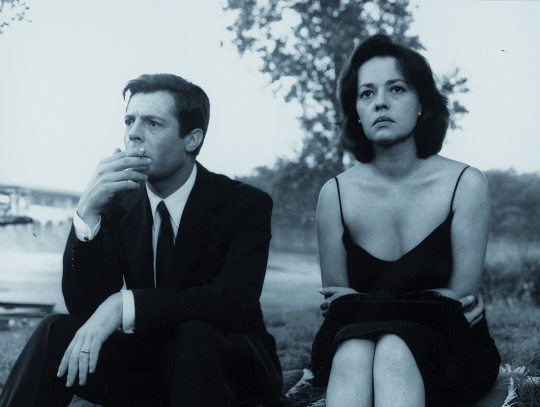 Ideja praznine, isključenosti i lične sebičnosti u životu za dvoje, su osnovne ideje filma. Oštra crno bela fotografija, bliska formi neo-realizma, uokviruje ovaj film
Mladi intelektualni par posećuje jednog od svojih retkih prijatelja, koji je u bolnici i na samrti. Djovani i Lidija lutaju iz jedne scene u drugu, čime iscrtavaju svoju sudbinu, i traže vezu iz prošlih dana, ali čuje se samo eho netrpeljive prolaznosti i uzalud protraćenog vremena. Ruši se fasada srećnog bracnog para, i naziru se zidovi duboke otudjenosti, bez razumevanja, kompromisa i empatije
Posle toga, čuo se neki pas kako zavija, dugo, iskreno, bolno, sve se ispunilo velikom tugom. Onda sam čula avion, mislim, a zatim tišina… i bila sam srećna. Tišina parka je puna zvukova, nasloniš uvo na neko drvo i slušaš, na kraju ćeš čuti zvuke, možda je to u nama, ali ja bih više volela da je zvuk drveta! Tišinu su prekidali čudni šumovi, poremetili su moj mir. Zatvorila sam prozor, ali čulo se i dalje, mislila sam da ludim! Ne volim nepotrebne zvuke, želim da ih biram tokom dana. Reči i glasove, takodje, ima tako mnogo reči koje bih volela da ne čujem, ali moraš se prepustiti, kao kad te ponese morski talas.
Depresivni besciljni dijalozi, bez emocija, odlično se uklapaju u okolinu, koja izgleda nekako otudjena i nehumana. Klaustofobična lutanja i apokaliptična atmosfera u zabačenim delovima Milana, pejzaž napuštenih zgrada, praznih ulica, starih kuća, oronulih relikvija, očajnicki put u prošlosti i potraga za razlogom protraćenih godina i osećanja. Ali i sami pronalasci u sebi, su uvek šifrovani. Povratak trenutnih radosti iz dosadnog i modernog intelektualnog života, Linda pronalazi uz trivijlne i banalne stvari koje otkriva šetajući delovima grada koje poznaje od ranije. Ona beži od trenutne realnosti, vatromet i ulična borba zaokupljuju svest ali samo na trenutak. Sledi očajanje usled nemogućnosti promene i puta nazad, sa iluzijama već potrošenim
Odlična kinematografija čuvenog italijanskog reditelja Mikelandjela Antonionija:
[youtube]https://www.youtube.com/watch?v=71NWAtdpPJE[/youtube]