Review
Umetnicki zivot, La vie de bohème, The Bohemian Life. Prvi francuski film finskog reditelja. Kaurismaki prebacuje scenografiju iz Finske u Parizu, a i gde bi drugde, ako se samo setite mnogih knjiga i pesama, koje opisuju taj zivot umetnika u najvecem umetnickom gradu tog vremena. Kaurizmakijeva interpretacija Dzordz Orvelove knjige "Niko i Nista u Parizu i Londonu". Tacnije, film je radjen po noveli Henri Murgera "Scenes de la Vie de Boheme" (Scene iz zivota umetnika).
Kaurismaki opet postavlja koordinate i konstrukciju vec poznate atmosfere, vec poznatog grada. Tu gde se krecu slicni, iz filma u film. Oni nisu iz tvog mesta. Stilizovana crno bela fotografija, koju smo vec navikli da vidjamo u njegovim filmovima. Sada je ovaj grad dobio novo ime. Pariz.
Karizmaki ima taj talenat, da od jedne sasvim obicne price snimi jako interesantan film. Rodolfo – slikar (Matti Pellonpaa), Marcel – pisac (Andre Wilms) i Schaunard – kompozitor (Kari Vaananen) se slucajno srecu u jednom danu u velikom gradu. Pod zakonima bede i siromastva, od tog trenutka, gotovo lezerno postaju najbolji prijatelji. Oni nastavljaju nonsalantno da prezivljavaju iz dana u dan. Zive od danas do sutra, radeci ono sto vole. Iako nekad se desi da danima nisu pristojno rucali, ne dozvoljavaju da ih to slomi. U filmu, glavni junaci nailaze na mnogo raznih neprilika od strane policije i bogatih. Istovremeno i tuzan i smesan film.
Njihova pojava deluje zanimljivo. Ali ako gledamo drustveno verifikovanje i definiciju koju mozemo da nadjemo za nase drage prijatelje, onda je njihova pojava i vise nego tragicna. Rodolfo, Marcel i Schaunard predstavljaju luzere (gubitnike) koji poseduju neobjasnjivu strast i prevrzenost "umetnickom", to jest za njih jedinom bozanstvu. Neke stvari se nisu promenile sa vremenom. Umetnik koji nije uspeo, koji nije bogat i slavan i nije se dokazao, predstavlja poslednji sloj drustva, odbacen od svih. Tako je bilo nekada, u raskosnom Parizu, tako je i sada.
Ali ono sto sada nedostaje modernom drustvu, narocitu u ovoj sferi umetnosti,  je uzajamno prijateljstvo izmedju slicnih. Gde trenutno preovladava zavist i licimerje, tada je vladala uzajamna beskrajna konsolidacija. Jedini nacin da prezive, u velikom Parizu je da se drze zajedno. To njihovo prijateljstvo nema granica, oni postaju braca i zive tako. Imamo u jednoj sceni, kad Rudolfu treba novac, za njegovu devojku, dvojica prijatelja prodaju sva svoja umetnicka dela i svoju preostalu imovinu, da bi sakupili taj novac. Isto bi Rudolfo to uradio i za njih. Oni su delili sobu, hranu, sve sto se moze deliti, da bi preziveli u surovom Parizu. Oni znaju da su izabrali taj zivot, ne odricu se toga. U filmu, njih trojica upravo to jesu, najbolji slucajni prijatelji. Sreli su se spletom slucajnih okolnosti, i od tada su nerazdvojivi, onako nenametljivo, totalno suptilno. Takav odnos i prijateljstvo je jako tesko videti danas medju umetnicima.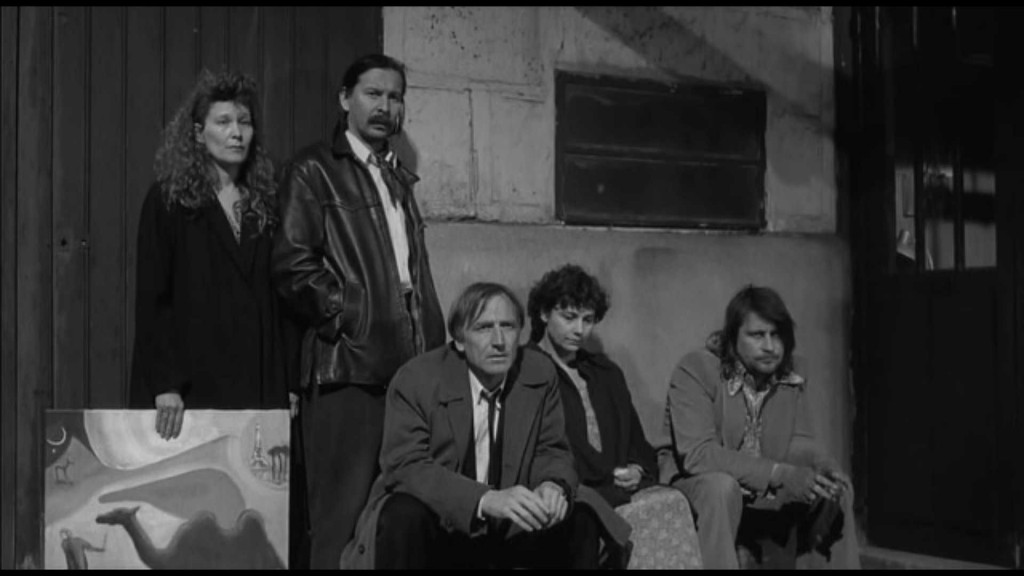 Zene ne vole umetnike bez para. Mogu sa njima provesti neko vreme, ali ne i duzi period i ceo zivot. To nam upravo otkriva Kaurismaki, umetnik u vecini slucajeva ostaje sam, medju slicnim prijateljima, devojke uvek odlaze sa onim, koji moze da im ponudi sigurniji i stabilniji zivot. Ali oni se ne bune i ne zale, odvise su se navikli na ovaj usamljenicki zivot da bi ga menjali.
Zato ako neko zeli da pokusa da bude umetnik kad odraste, neka razmisli jos jednom.