Review
Sloboda imaginacije kroz leprsave predele stvaranja. Kad se pomene japanska animacija medju prvim asocijacima je Hayao Miyazaki. Jedan od njegovih najpoznatijih i najcenjenijih filmova je svakako Spirited Away.
Spirited Away ili kako su ga preveli kod nas "Zacaran grad" je jedno epsko del0 animirane fantazije. Mijazaki je spojio likove, prirodu i eksterijer u jednu jedinstvenu celinu. Mijazaki voli da kreira heroine lepseg pola, kao sto je radio i u mnogim prethodnim projektima.
[youtube]http://www.youtube.com/watch?v=juPtg0b-SJE&feature=related[/youtube]
Film se bazira na jednoj devojcici "Chihiro" i na svetu koji ona dozivljava. Ona putuje sa svojim roditeljima u svoj novi dom. Kao sto sva deca kad se sele imaju odredjenu anksioznost, tako i Chihiro je uplasena sa osecajem nesigurnosti. Auto nailazi na jedan kamen ispred tunela i zaustavlja se. Devojcica upozorava svoje roditelje da ne ulaze u tunel. Oni je nisu poslusali i svi zajedno krecu dalje. Kako uvod u pricu odmice, Chihiro se gubi od svojih roditelja i pronalazi se u jednom veoma cudnom praznom gradu. Nailazi na jednog decaka koji je upozorava da sto pre ode sa ovog mesta, dok jos nije pao mrak. Ona neuspeva u tome dok se njeni roditelji pretvaraju u svinje. Duhovi grada se bude i preplavljuju ulice kojima upravlja "Yubaba" zla vestica. Ona je takodje vlasnica velikog bazena kupalista, koji je kao cistiliste i kupaonica za duhove i tu se zaposljava mala Chihiro. Ona ce pokusati da se vrati u svet ljudi.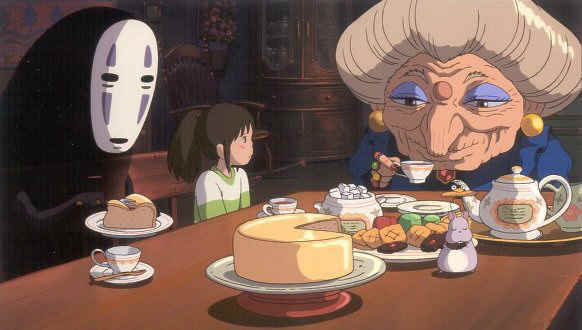 Prica je jedinstvena, cudna i puna nepredvidivosti. Iako po opisu, likovi u ovom filmu izgledaju ruzno i odvratno, oni su nekako krajnje dopadljivi. Dizni je veoma brzo kupio ovaj film, nakon sto je izasao na trziste i skratio je naziv od "Spiriting Away of Sen and Chihiro" na samo "Spirited Away".
Zacaran Grad predstavlja pomalo bizarnu mesavinu Carobnjaka iz Oza i Alise u zemlji cuda, odlican film koji morate odgledati.