Review
Devedesete su bile veoma turbulentne po karijeru Džona Karpentera. Cik-cak u kvalitetu, malo dobro, malo loše, malo do zla boga loše i ta dekada, iako je donela bar jedan sjajan film (U USTIMA LUDILA), ipak je označila njegov priličan pad. Zapravo, on se više nikada nije vratio u formu iz svojih najboljih dana. U novom veku jedva da ga je i bilo (DUHOVI MARSA, ODELJENJE).
Kad se dohvatao rimejkova tuđih filmova dogodilo se jedno remek-delo (STVOR, 1982) i jedan, po meni, začudni Karpenter koji mi je bio jako zanimljiv (SELO PROKLETIH). Kad je BEKSTVOM IZ L.A. (1996) pokušao da ponovi uspeh BEKSTVA IZ NJUJORKA (1981) doživeo je debakl. Možda ga je spiskanih 50 miliona dolara na tu produkciju i najviše onespokojilo, jer su nade bile velike, a ona nije vratila na blagajnama ni polovinu uloženog.
SELO PROKLETIH, prva verzija, urađeno je kao mali jeftin horor u britanskoj produkciji 1960. godine, a režirao ga je reditelj nemačkog porekla, Volf Rila. Film se ipak vodi kao zapažen u istoriji žanra. Karpenter i ovde unosi motive fantastike, vešto nas uvodeći u priču o mestašcetu u kome vlada gotovo idilična atmosfera, dok ne počnu da se zbivaju stravični i neobjašnjivi događaji.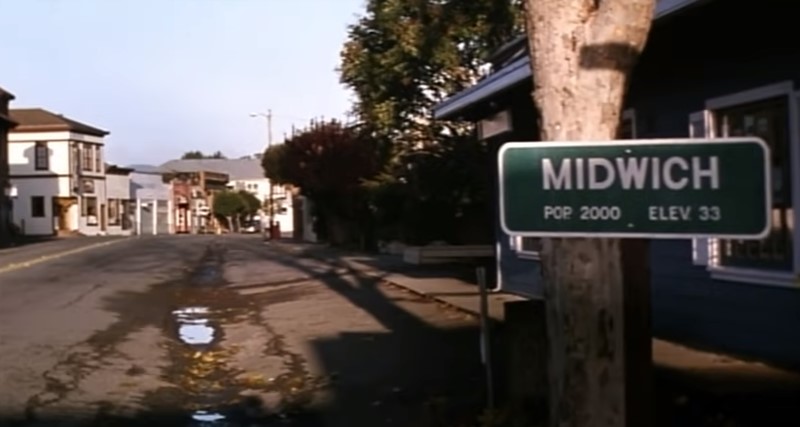 Antologijski su prizori kad iznenada bukvalno svi stanovnici ostaju bez svesti, ispruženi na mestima gde su se zatekli. Ta čudna slika odista fascinantno deluje i ubraja se među najupečatljivije scene u opusu ovog autora. Pomenutim stanovnicima posle par sati svest se vraća, ali daleko od toga da je sve prošlo bez problema i posledica. Ispostavlja se da su sve žene iz mesta, pa i device, ostale pomenutog dana trudne. Čudna zbivanja izazvaće pozornost naučnika iz Službe državne bezbednosti. Mnogim ženama biće ponuđen novac da svoju trudnoću održe do kraja, dok su druge na to spremne i bez takve motivacije. Međutim, bebe koje stižu na svet kao da je jedna majka rodila: kosa im je bela, imaju natprirodne sposobnosti, čitaju ljudske misli i upravljaju njima. Ubrzo ta deca počinju na bizaran način da terorišu stanovnike a neke od njih navešće na samoubistvo. To je već treći znak da je u njima inkarnirano zlo i da im se treba suprotstaviti…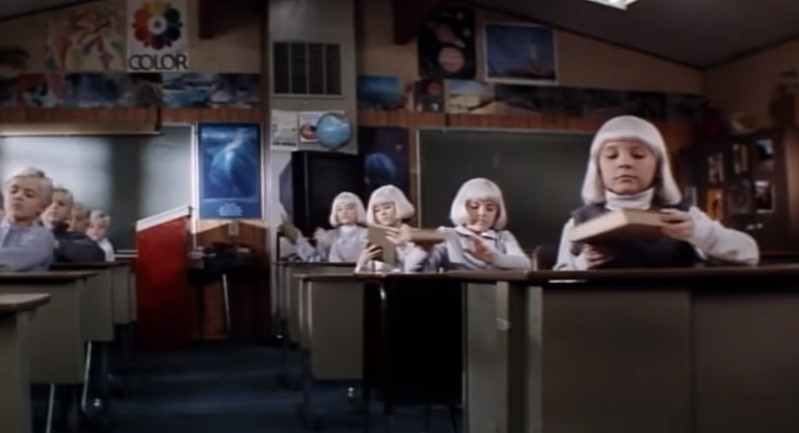 Zlo koje na čudan način, kroz neku vrstu invazije, ulazi u zajednicu, dalo je Karpenteru povod da se pozabavi etičkom stranom problema, da opipa religiozni puls stanovnika i usmeri žaoke na račun naučničke gladi u jagmi za senzacionalnim otkrićima.
U SELU PROKLETIH okupljena je vrlo zanimljiva glumačka ekipa. Kristofer Riv (u poslednjoj ulozi pre nego što mu se dogodio fatalni pad sa konja, posle koga je, povredivši kičmu, glumac završio paralizovan u invalidskim kolicima), Kirsti Eli, koja je 5. decembra preminula, Linda Kozlovska, Majkl Pare, Mark Hamil…
Film je doživeo neuspeh u bioskopima, a kritika ga je mahom sahranila. Ja sam negde suprotnog mišljenja jer mi je bizarno atmosferičan, više čudan nego strašan, i ima neki osobeni karpenterovski štimung. Dakle, bliži sam oceni kritičarke The New York Timesa, Dženet Maslin, koja SELO PROKLETIH proglašava "najboljim horor filmom Džona Karpentera u dugo vremena".