Review
Poslednji film proslavljene američke rediteljke Ketrin Bigelou neće sigurno biti među omiljenim ostvarenjima njenih poštovalaca, ali u eri bezbrojnih lakih komada, ovo angažovano delo o rasizmu i nasilju zaslužuje veliki respekt.
Njena kamera (engleski snimatelj Beri Ekrojd, koji je tako uznemirujuće doneo prizore filma KATANAC ZA BOL) se podmuklo uvlači među likove i svedoči situacijama na ubedljiv način nalik najdramatičnijim dokumentarcima. Snažan veristički upliv u dramu kod Ketrin Bigelou je prerastao klasično režirani film, ona hoće da život bude ubedljiviji od umetnosti i na neki način potre prisustvo umetnika. Takvi su zahtevi i prema glumcima, pa nije čudo da od sadržaja kakav je DETROIT danima ne možete da se saberete jer taj potencijal steže za gušu. Ona jeste žena koja može Holivud da donese u punoj meri i da radi visokonaponske filmove koji bi zadovoljili i producente, ali za intelektualni i etički kapacitet ove dame to su plitke vode. Ona želi veće izazove i to u nekoliko poslednjih filmova (KATANAC ZA BOL, ZERO DARK THIRTY/00.30 – TAJNA OPERACIJA, DETROIT), u kojima je sarađivala sa scenaristom Markom Boulom, superiorno demonstrira. Ona voli da čeprka po posledicama američke unutrašnje i spoljne politike, akciju voli da kombinuje sa moralom i njegovim korozivnim naličjem, žanr da uzima kao začin za veoma ozbiljne i slojevite priče.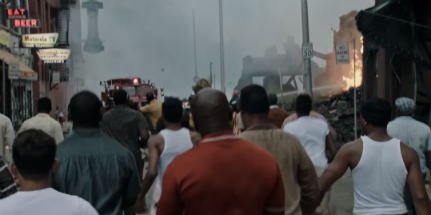 Policijska racija u Detroitu 1967, koja će uzrokovati pravu eksploziju rasnih konfrontacija i nemira u gradu, u narativnom je jezgru ovog filma. Strašna nepravda koja je učinjena skupini momaka crne boje kože u jednom motelu, od kojih će mnogi biti besomučno maltretirani a neki čak i ubijeni od strane rasistički nastrojenih policajaca, transponovana je u snažnu priču i doneta glumački i rediteljski ubedljivo. Još veći bes pripadnika policije koji vode ovu nemilosrdnu "istragu", izazvaće činjenica da im društvo prave dve bele devojke. Napetost koja dostiže stepen usijanja, nasilje u slapovima, precizno dočarana atmosfera neskrivene mržnje od belaca u uniformi, koji su zalutali među pripadnike reda i zakona, i bezbrižnog i ušuškanog gledaoca dovode na ivicu izdržljvosti. Ovaj film je i upozorenje da neljudskost i zverinjak čuče u ljudima i da samo čekaju okidač da bi se, bez obzira što se mi u drugoj dekadi 21. veka kunemo u civilizacijske domete i demokratske vrednosti od kojih je tolerancija jedna od najbitnijih, eksponirale u punoj meri. Opomena je i na odjavnoj špici, kada saznamo da su glavni krvoloci u ovoj neslavnoj istoriji jednog grada oslobođeni ili su prošli sa minornim kaznama i da se pravda nikada nije u pravoj i legalnoj meri zadovoljila.
Drugi, bar malo lepši deo ove brutalne razglednice iz Detroita 60-ih, tiče se muzike, koja je umesto odskočne daske za karijeru par čudesno nadarenih momaka, u nekim trenucima postala očajnički vapaj za istinskom slobodom i jednakim pravima Afroamerikanaca. Jednim delom ovo je i priča o začecima R&B grupe The Dramatics, koju je jedan od osnivača, Leri Rid, napustio nakon što je bio žrtva u Algiers Motelu, u noći između 25. i 26. jula 1967.
Uz puno jasne simbolike DETROIT je premijeru doživeo u Detroitu, 25. jula 2017. Što se tiče neuspeha na blagajnama – DETROIT je zaradio 21.5 miliona dolara, a budžet mu je bio 34 – mogao bih da kažem: nema zarade na principima!