Review
"Jedi, moli, voli" – putovanje samospoznaje
Rapsodija mira, duha, boja, ukusa i prirodnih lepota koje glavna junakinja, spisateljica Liz Gilbert (Džulija Roberts), otkriva podstaknuta željom za pronalaskom sebe i svega što je nekada osećala, su otprilike scenografija onoga što ćete moći da vidite tokom dvočasovne, filmske adaptacije svetskog bestselera, knjige "Eat, Pray, Love" tj. na srpskom "Jedi, moli, voli".
Memoari Elizabet Gilbert su objavljeni 2006. godine, nakon čega postaju apsolutni bestseler, zadržavajući se čak 187 nedelja na best seler listi New York Times-a, što je zainteresovalo brojne produkcijske kuće, te su prava za snimanje filmske verzije "Jedi, moli, voli" pripala Columbia Pictures-u. Četiri godine nakon toga, u režiji Rajan Marfija, koji je zajedno sa Dženifer Solt adaptirao ovu svetski poznatu knjigu u scenario, izlazi film u bioskopima. Glavna uloga je pripala Džuliji Roberts, dok se pored nje kao podjednako bitni likovi (kako u životu spisateljice, tako i u filmu) pojavljuju i Bili Krudup, Havier Bardem, Džejms Frenko, Viola Dejvis i drugi.
Ovaj film je siže filozofije koju spisateljica Liz prihvata, te se kroz različite moment njenog života mogu videti i različiti zaključci i filozofske preporuke koje je sama usvojila, ali i pružila drugima. Ono što daje posebnu notu kako knjizi tako i filmu "Jedi, moli, voli", je to što se radnja odvija bukvalno preko celog sveta. Počevši od Nju Jorka, gde zaplet i počinje, a zatim na tri svetski pozante turističke destinacije, na kojima junakinja otpočinje svoje putovanje za dušu nakon iznenadnog razvoda. Prva stanica na Lizinom putovanju je Rim odnosno Italija, gde se po prvi put posle dugo vremena osamostaljuje, upoznaje nove ljude, uči da ponovo uživa i prepusti se trenutku, čulima, umetnosti i hrani koja je u Italiji zaista izvanredna. Upoznaje italijanski način života, jezik, prihvata njihov poznati "slatki užitak radi užitka" i italijansku kuhinju, posebno probajući karakterističnu picu južne Italije u Napulju, ukusno začinjenu slobodom i morskim duhom koja je karakteristična za gradove južne Italije, pa tako npr. i za letovanje na Siciliji koje svako mora iskusiti.
Može se zaključiti da je prvi deo putovanja povezan sa prvim delom naslova, odnosno rečju "jedi", dok su preostale dve stanice još živopisnije, te glavna junakinja posećuje najpre Indiju ("moli"), a zatim I ostrvo Bali u Indoneziji ("voli"), gde se nada da će zatvoriti svoj krug potrage za sopstvenom ravnotežom.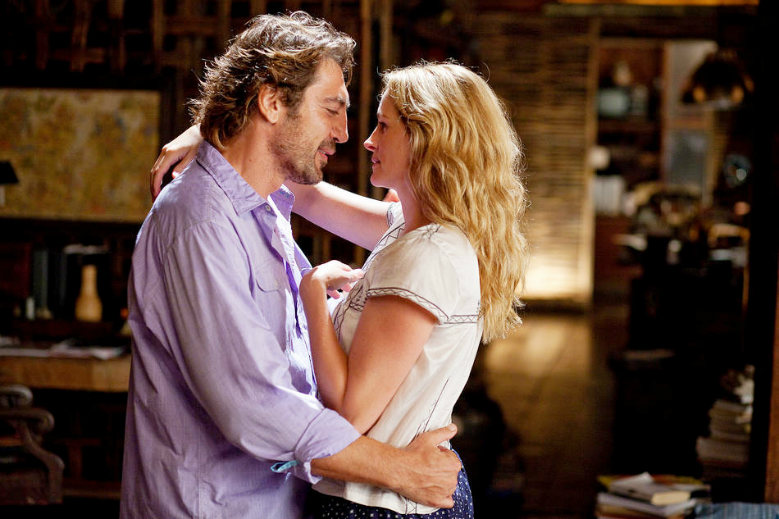 Kratak zaplet "Jedi, moli, voli"
Jedi, moli, voli je adaptacija memoara napisanog od strane glavne junakinje, Elizabet, koji pruža uvid u njeno jednogodišnje putovanje svetom, podstaknuto željom za pronalaženjem balansa koji je u potpunosti izgubila nakon raspada dugogodišnjeg braka. Međutim, razlog koji je doveo do razvoda postavlja pitanje da li je taj balans zapravo ikada i postojao, i šta je to što joj je neophodno da bi ispunila sebe. Kao žena u svojim ranim tridesetim, suočena sa činjenicom da joj je protekao period života za koji se obično kaže da su najbolje godine, dovodi sebe na raskrsnicu osećanja i preispitivanja sopstvenih želja, donekle zanemarivši osećanja drugih, posebno bivšeg muža koji ostaje zatečen i zbunjen njenom željom za razvodom.
Takav tok događaja i naglo uskakanje u šestomesečnu vezu koja prebrzo napreduje sa njujorškim glumcem slobodnog duha, dovodi do još jednog razarajućeg emotivnog iskustva. To drugo zaredom bolno iskustvo, Liz Gilbert ostavlja u potpunosti prepuštenu sopstvenim neuspesima, koji je konačno nadagnaju da rizikuje sve, napusti svoj život u Nju Jorku na godinu dana, i proputuje svetom u potrazi za sobom.
[youtube]https://www.youtube.com/watch?v=mjay5vgIwt4[/youtube]
Uz mnoštvo životnih poruka i filozofskih misli koje manje više svi mogu prepoznati kao dobru preporuku i savet za život, "Jedi, moli, voli" je filmsko ostvarenje koje će sigurno svima biti pitko, te uprkos brojnim kritikama koje doživljava, film nije bacanje vremena pogotovo ako volite da pogledate kakve to još lepote nudi ovaj veliki svet, do kog mi iz Srbije, istina, malo teže možemo doći. Možda su nam Indija i Bali daleko, ali Italija svakako nije, pa ako želite da posetite barem jednu od ovih fenomenalnih destinacija, možda je prava prilika da posetite Italiju i njeno prelepo ostrvo Siciliju.