Review
N
esumnjivo je da je 1981. godina  za, tada nepoznatog,  Sema Rejmija bila odskocna daska i ujedno snazan pocetak jedne izuzetno plodne filmografije koja ni u jednom trenutku nije izgubila epitet autorstva cak i kada je Sem Rejmi pristao da snima za "mejdzor" ligu.
Vec je u prvom filmu iz kultne "Evil Dead" trilogije, niskobudzetnom hororu, bilo jasno da iza kamere stoji talenat koji je kadar da oplemeni  i unese nesto novo u horor zanr koji je u tom periodu vec potrosio kredit dobijen od Karpenterovog "Halloween" i Hoperovog "Texas chainsaw massacre". Drugi film iz trilogije, "Evil Dead 2", snimljen sest godina kasnije , potvrdio je ova naslucivanja i otkrio nove dimenzije horora kroz majstorsko kombinovanje strave, krvi i urnebesne komedije. Istinski fanovi nikada nece zaboraviti scenu u kojo Es (Bruce Campbell), uz histericno mazohisticko urlanje, motornom testerom sece vlastitu ruku koju je zaposeo zli duh!
"Evil Dead 2", u stvari, i nije bio filmski nastavak u pravom smislu reci, vec neka vrsta rimejka odnosno dopunjenog izdanja prvog filma koji je u ovom slucaju bio snimljen sa deset puta vecim budzetom i bogatijim specijalnim efektima. "Army of  darkness" je, vec bio prirodni nastavak drugog filma u kome su jos vise bili primenjeni elementi slepstik komedije.
Posle vise od pet godina rada na "Spiderman" serijalu, Sem Rejmi se vratio svom omiljenom zanru i u "mrtvom moru" raznih besmislenih i uvredljivih holivudskih rimejkova azijskih horora uneo pravo osvezenje oliceno u "DRAG ME TO HELL".
Naime, Kristin (Alison Lohman) je menadzer koji ocekuje unapredjenje u jednoj firmi, kada joj jednog dana dolazi klijent, Silvija Ganus, sa molbom da joj se prolongira vracanje kredita kako joj banka ne bi oduzela stvari iz doma u kome zivi vec trideset godina. Kristin se nakon krace dileme, ipak, odlucuje da ne pomogne starici nakon cega joj Silvija pomocu ciganske magije baca kletvu u vidu demona Lamije koji prva tri dana muci ljudsku dusu da bi je nakon treceg dana odvukao u pakao.
Ono sto se odmah moze uociti kod "DRAG ME TO HELL" je elegantnost  rezije i lakoca sa kojom Rejmi uspeva da na kriticnoj granici izmedju groze i komedije drzi pricu  istovremeno i zanimljivom i dovoljno zabavnom da ona ni u jednom trenutku ne prelazi u neku vrstu autoparodije. U tom smisli, "DRAG ME TO HELL" je jedan od najkompetentnije snimljenih horora u skorije vreme koji pokazuje da Rejmi nista nije izgubio od svog izvornog umeca  i osecaja da dobro uplasi i istovremeno dobro nasmeje gledaoca.
[youtube]http://www.youtube.com/watch?v=BUZTybLlWKI[/youtube]
Po uzoru na "Evil dead" i  ovde se pojedine stvarcice iz svakodnevnog zivota koriste kao ubojita oruzja (heftalica) pracene ispadanjem vestackih vilica uz obilno izlivanje zeleno zelatinoznog sadrzaja sistema za varenje.
S druge strane, film nije lisen ni podsmeha prema stalnoj ljudskoj zelji za nekakvom karijerom  kroz jasnu hipokriziju glavne nesrecnice Kristin koja i kada joj se pruzi prilika za oprostajem ona ne zeli da prizna krivicu i odgovornost za sve sto ju je snaslo.
Naime, Kristin je devojka sa farme opterecena kompleksom nize vrednosti zbog svog seoskog porekla koja na sve nacine nastoji da se sto vise uklopi u gradsku sredinu prihvatajuci potpuno suprotne poglede u odnosu na one sa kojima je rasla. Pa, tako, u jednoj prilicno ironicnoj sceni, Kistin se deklarise kao vegetarijanac i zastitnik zivotinja, iako potice sa svinjske farme, pri cemu joj ne pada na pamet da ubije svog macka radi prinosenja zrtve demonu Lamiji bez obzira sto je to mozda i sansa da spasi svoju dusu.
Izvesna satiricna crta filma se moze naci i u nacinu prikazaivanja rituala isterivanja demona i zaposednutih likova  cime je ovde Rejmi potpuno svesno i svrsishodno nacinio autoomaz  "Evil dead" trilogiji sto mu je omogucilo da na jedan diskretan nacin ismeje pomamu savremenog coveka za paganskim formama kroz apsurdnost magijskih rituala, proricanja buducnosti i animizma (verovanje da pojedini predmeti imaju natpririodne moci).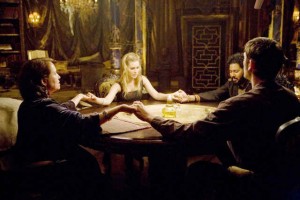 "DRAG ME TO HELL" je, takodje, prozet prepoznatljivom Rejmijevom tehnikom snimanja koju cine iskoseni kadrovi cime se jos vise potcrtava iscasenost i bizarna komicnost situacije u kojoj se nalazi Kristin. Dakle, kao sto dobru hranu cini znalacki stavljena mala kolicina zacina tako nema ni dobrog horora bez malih tajni velikih majstora.
Konacni zakljucak je da svako od nas, kad tad, mora odbaciti laz i dvolicnost i priznati pred sobom svoje grehove da ne bi bio progutan paklenim ognjem neciste savesti.
Sto se tice samog "DRAG ME TO HELL", on sigurno nece biti odvucen bilo kakvim paklom. A, ponajmanje onim koji se odnosi na zaborav.